Dates:
From Friday, 23rd of November 2018 to Saturday, 22nd of December 2018
Address:
Doagh Famine Village, Doagh Island, Clonmany, County Donegal
Tel.:
+353 (0) 74 93 78078.


Please mention Family Fun when booking!
Santa's Island at Donegal's Lapland 2018
Santa's Island at Donegal's Lapland is a unique and truly magical fun-filled experience for children of all ages to meet Santa and his eleves, and also to recieve a special gift from him this Christmas!
Special lighting effects, snow effects and smoke machines will be used at various points through Donegal's Lapland this year all to help enhance the festive experience for your visitors
There will also be animals included  in parts of the Santa's Village for all them animal lovers who visit this Christmas!
When the live show gets underway, the head elf appears and explains the story of Christmas. The children watch as a star appears above the stage
Then the curtain opens…
Behind the curtain is Mary, Joseph and baby Jesus along with a donkey in a stable
The Elf now explains how Santa got involved in the story of Christmas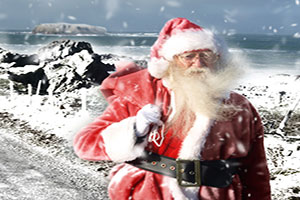 Santa now makes his entrance coming down the chimney. He talks to all those gathered and at the end calls out each child by name and has a small special gift for each of them. When Santa has given each child their gift, everyone is free to move out to Santa's Village
In Santa's Village you can visit Santa's home, see what he eats for breakfast and visit the elves' bedroom. You can explore Santa's office and the children can write and post their list for Christmas. Tour Santa's shops, visit the toy factory and sit on Santa's sleigh.
In Santa's home, the children can meet Santa again and have their photographs taken with him.
You also can continue through a tunnel into Elves Kingdom. This is completely different world with Elves houses and many more surprises
For more information, visit Donegal's Lapland
Santa's Island Attractions
ELVES DISCO
POST OFFICE
SANTA'S SLEIGH
SANTA'S HOUSE
REINDEER
SANTA'S SHOPS
ELVES VILLAGE
Santa's Island Event Information
Venue:- Doagh Famine Village, Doagh Island, Clonmany
Classification:- Family Christmas Event / All Ages
Dates:-  23rd Novmeber – 22nd December
Admission:-
Child (2yrs +) €14.50
Infant (0 – 23 months) €5
Adult €14.50
Booking Online:- Book Online Now through Donegal's Lapland
*Please note bookings are subject to a 50c booking fee
FamilyFun Tip:
If you want your child to have their name called out by Santa to receive a gift  during the live show then you should purchase a child ticket
If you have a child who wants to attend the live show but does not want to meet Santa and does not want to receive a present from Santa then you just have to purchase an adult ticket for that child regardless of their age
A child with an adult ticket will not have their name called out by Santa and will not receive a gift from him
Children under the age of 2 at the show do not require a ticket to be purchased in advance
If your child is under 2 at the show but you would still like them to personally receive a small gift from Santa you can do so by paying €5 at the door upon arrival
Booking Online:- You can book on line here through our booking link directly to Santa's Island ticket sales