Santa's Island at Donegal's Lapland 2022
A FUN-FILLED FESTIVE EXPERIENCE FOR ALL THE FAMILY!
Putting smiles on faces since 1999!
Families flock back to Donegal's Lapland year after year for many reasons and have done so since 1999!
To keep people coming back we like to makes a few changes now and again, introduce new attractions and throw in a few special surprises from one year to the next and this year is no different.
Feedback from visitors each year helps us shape our ideas on what to do the following year so we hope this year will prove to be as enjoyable and fun as always.
The following will give you an idea of some of the attractions you can experience when visiting.
However, please note that the format and content of each show can vary and is subject to change.
WHAT YOU CAN EXPECT
More Fun. More Magic. More Effects.
Suitable for adults & children, this project is to convince the unconverted.
Arrive at least 10 minutes before starting time, present tickets at reception, then proceed through to the show house.
When the show starts the elves appear and explain the story of Christmas.
The show continues and Santa makes his entrance, coming down the chimney!
Here Santa talks to the children. Beware of the naughty elf!
This year look out for some new festive characters!
Next you are off to Santa's village.
First stop is the toy factory where Santa will let each child chose their own present before you all head off to explore the rest of Santa's Village.
Santa's Village includes;
The stable with crib
Post office
Santa's Sleigh
Santa's Toy Store
In the show house you can take your own photo with Santa, socially distanced of course!
In Santa's Village you can have a professional photo taken in a Christmas scene with your friends and family.  There is an additional fee for the professional photo and is completely optional.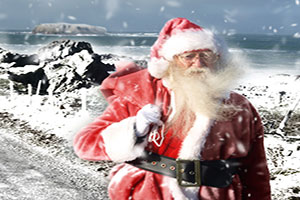 For more information, visit Donegal's Lapland
Santa's Island Event Information
Venue:- Doagh Famine Village, Doagh Island, Clonmany
Classification:- Family Christmas Event / All Ages
Dates:-  25th November – 3rd December
Booking Online:- Book Online Now through Donegal's Lapland
*Please note bookings are subject to a booking fee
CHILD TICKET (aged 2 & over) – A Child Ticket is for any child or person aged 2 or over on the date of the show who wishes to meet Santa and receive a small gift from him.
ADULT TICKET (General Admission) – An Adult Ticket is for anyone, regardless of age, who wishes to attend the show but DOES NOT wish to meet Santa to receive a small gift from him.
CHILD TICKET (0 – 2 months) – This Child Ticket is for infants under the age of 2 on the date of the show who you would like to meet Santa and receive a small gift from him. Proof of age may be requested upon entry.
FamilyFun Tip:
If you want your child to have their name called out by Santa to receive a gift  during the live show then you should purchase a child ticket
Booking Online:- You can book on line here through our booking link directly to Santa's Island ticket sales