Name:
Slieve Aughty Centre
Address:
Kylebrack West, Loughrea, Co. Galway
Tel.:
+353 (0) 90 97 45246


Please mention Family Fun when booking!
Slieve Aughty Riding And Activity Centre
Slieve Aughty Centre is a family run 4 star guest house, certified organic restaurant, party venue, and equestrian centre in East County Galway. Set on 30 acres and surrounded on 3 sides by more than 2,000 acres of forest, Slieve Aughty Centre offers a wide range of activities for children of all ages in a peaceful and relaxing atmosphere.  They are eco-friendly, which means they offer a lot with a small environmental impact, and The Three Towers Eco House and Organic Kitchen offers fresh organic meals and private event facilities.
For a great day out, book an hour or two of horse riding, make a wish in the Enchanted Forest, bring a donkey for a walk, swing on the playground, feed Eileen the pot-bellied pig, paint a picture in the craft room, and try the famous organic pancakes in the café.  There is even more happening during the Easter, Halloween and Christmas fun-filled festivals.  Children over the age of 5 can go on a short lead rein on a quiet pony, and treks are tailored to the rider's abilities, so no experience is necessary.  Riding lessons for adults and children are available and pony camps run every February Mid-term break, Easter break, summer, and October break. For adults, take a long walk to the river (bring a donkey to carry your picnic!), stay the night, and soak in the outdoor hot tub.
For more advanced equestrians, take advantage of the extensive cross country course and large all weather arena for some lessons or schooling, on your own horse or on theirs.
The Three Towers Eco House and Organic Kitchen
The Three Towers Eco House and Organic Kitchen is a full service certified organic restaurant and 9 bedroom 4 star guest house.  Stay for a few hours or a day in artistic comfort and quiet.  For an unforgettable family party, combine horse riding with a delicious meal, fresh pizzas fired in the clay oven every Friday, or book a pancake birthday party for a special boy or girl.  Parties are customised to your needs and budget and can include a variety of activities such as horse riding, donkey games, teambuilding, walking, arts and crafts, and more. Weddings are one of our specialties if you are thinking about getting' hitched.
The food at the centre is home-made and organic, with most fruits and vegetables recently pulled from their own garden.  Local farmers provide fresh eggs, cheese and other products.  Everything is made by hand and is fresh and delicious.  The staff are also proud to offer fair trade products, including tea and coffee.
Family Holidays At The Slieve Aughty Centre
Most people come to Slieve Aughty Centre and The Three Towers in Galway and wish they could stay longer.  With that in mind, book family holidays or short breaks for families.  During the day, try horse riding through the scenic forestry surrounding the centre, and the trails are great for walking and cycling too. Fishing, golfing and sightseeing opportunities are within easy reach, and supervised children's activities can be organised while the adults have some quality time to themselves or enjoy a soak in the outdoor hot tub.
The Three Towers Eco House offers a unique family room to make getaways for large families comfortable and affordable.  This double size room easily fits 4 or 5 single beds and has a huge bath.  For smaller families, the triple room is perfect.  A toy corner in the restaurant ensures that the kids have something to do while adults enjoy their meal. The centre has 2 eco-lodges on site, the Chalet de Florence with 2 bedrooms and 2 sets of bunk beds, and the Birds n Bees lodge with one bedroom. All rooms are available B&B or full board and eco-lodges can be booked self-catering from November-Easter.
For more information, contact them Tel.090 97 45 246 or email [email protected]
Booking Online:- You can book on line here through our booking link directly to the Slieve Aughty Centre Family Breaks
Slieve Aughty Birthday Parties
You will have a great time with friends and families with a pony or donkey birthday party.  Parties at Slieve Aughty are easy, fun and memorable.  Make your own party or let them customise a party for your needs and budget and take care of all the details for you.  Most kids can't get enough of ponies or donkeys, so they plan plenty of time with the animals, even painting and dressing them up.  Kids can go to the Enchanted Forest or play games in the sand arena, whatever you choose.  They will decorate the room for you and make a hot pile of Slieve Aughty famous pancakes with all kinds of sweet toppings.  All you need to bring is the camera!
For more information on Parties at Slieve Aughty, contact them Tel.090 97 45 246 or email [email protected]
Slieve Aughty School Tours
School tours with Slieve Aughty are fun and educational.  Programme choices include farm friends, pony rides, natural wonders, Leave No Trace and teambuilding (on foot or on horseback!).  Combine 2 programmes at no extra cost!  Lunch is available from The Three Towers Eco House and Organic Kitchen, and discounts apply to groups of 20 or more.  Best of all, if you'd like to give Slieve Aughty a test run they will do a free 1 hour classroom presentation at your school!  The centre has lots of excellent feedback from previous school visits and loads of information on Slieve Aughty School Tours.
Let Slieve Aughty make your next school tour one that students and teachers will enjoy and remember.
For more information contact them Tel.090 97 45 246 or email [email protected]
The Slieve Aughty Experience
The Slieve Aughty Experience" is a day out for families which includes farm animals to pet, self-guided walks, self-serve arts and crafts, new toddler playground, family games, nature hut and the new Enchanted Forest.
Free for guests or €5 per person for a day out, it is perfect for families to enjoy.
The Enchanted Forest
The Enchanted Forest is truly amazing with a gnome village, fairy homes, witches hut, stone ring for fairy ceremonies, and a lovely arched entryway.  Each visitors receives a keepsake map and guide to the Enchanted Forest, fairy dust, wishing tree tag, nature journal and pencil- all of which are eco-friendly and biodegardable.  Kids ages 5 and up can travel to the fairy forest on one of Slieve Aughty's quiet safe ponies (€10) and ride even further after for a full 40 minutes pony ride (€15)
For more information, contact them Tel.090 97 45 246 or email [email protected]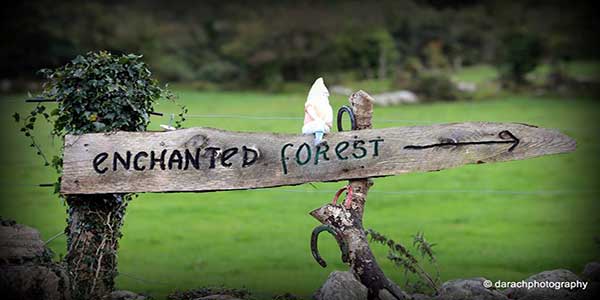 Events At The Slieve Aughty Centre
Although Slieve Aughty is a fun, unique place to visit any time of the year, their festivals are especially wonderful.  They host 3 fantastic festivals a year, Spring, Halloween and Christmas.  Each one is a family event with loads to do in a welcoming, warm, non-commercial environment.  The Easter and Halloween Festivals include a charity ride to support activities in the local community or abroad.
For more information, contact them Tel.090 97 45 246 or email [email protected]
Booking:- You can book on line here through our booking link directly to the The Slieve Aughty Centre  – see 'Book Now' above, at the top of this page
Christmas At Slieve Aughty
Every year Santa, who won a Best Santa Award, plans a stop at Slieve Aughty Centre, where he enjoys a soft chair next to a cozy fire in his cabin while he visits with children from the surrounding community. Each child gets personal time with Santa and a small gift. Slieve Aughty Centre's Christmas Festival offers something new and different. It's non-commercial, family focused and fun.
To Find Out More About The Slieve Aughty Centre's Christmas Festival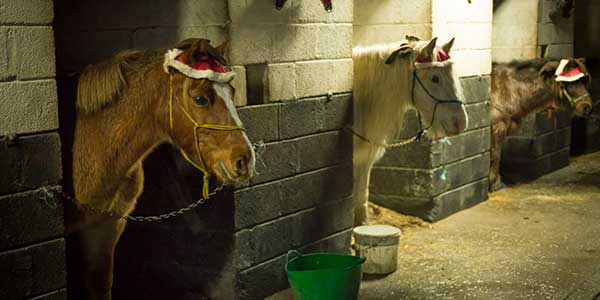 Halloween Festival
The ghosts and goblins arrive in Kylebrack each year with plenty of spooky surprises.  Free entry family activities all day every day, bring the kids for face painting, costumes, arts and crafts, pony rides, petting farm and pumpkin treats.
Visit the haunted house in the woods, and for the young ones follow the witch's walk for a short adventure on foot. Slieve Aughty famous pancakes are made to order and don't forget to enter to win a family pass to the Christmas Festival.
Find out more about Slieve Aughty Centre's Halloween Festival.
Spring Festival
Spring is a lovely time at the centre as it seems to coincide with warmer weather, emerging flowers and longer days that inspire us to shake out the dust of winter and get busy. There are plenty of animals around to visit, or you can go for a ride on one of the friendly horses or ponies. Step into the restaurant and fill your senses with the scent of fresh, homemade cooking, or simply grab a hot coffee or tea and sit outside in the garden.
The kids can make an Easter craft to bring home, and the whole family can try out a silly "spring" wardrobe and take some family photos. Of course, the best activity is the Easter bunny treasure hunt. Especially for the season, they turn the ordinary walking trail into a treasure trail with clues to help you find the elusive Easter bunny sweet stash! Fun and creative for all.
Find out more about Slieve Aughty Centre's Spring Festival
Directions To The Slieve Aughty Riding and Activity Centre Galway
Slieve Aughty is situated in the West of Ireland, about 45 minutes drive from Galway City and 15 minutes drive from Loughrea.
Directions from Loughrea:- from the N66 take the roundabout exit to Loughrea Town Centre. Take the R351 (Woodford Road) south from Loughrea. Lough Rea Lake will be on your right hand as you leave the town.
Travel approximately 10Km to The Hill Bar on your left side. After passing The Hill Bar take the next right turn at the four way junction. There is a petrol station and shop at this junction.
Drive a further 0.5Km and take the first left at the white house. This is a narrow lane and a small round sign with the Slieve Aughty logo at the top of the lane. Follow the road to the car park on the left.