Name:
Spraoi Children's Fun World
Address:
Unit 3, Aldi Centre, Longmile Road, Dublin 12
Tel.:
01 456 8753


Please mention Family Fun when booking!
Spraoi Children's Fun World
SPRAOI – the Irish word for fun and sport – is a modern, state-of-the-art children's fun world on Dublin's Long Mile Road, created to offer a truly memorable experience for groups of children, from toddlers up to pre-teens.
Using specialised, custom-made Play Zones, SPRAOI offers a maze of activities to keep children amused and physically active by crawling, climbing and exploring for two hours at a time the special features of the multi-coloured, fully-padded playframe.
SPRAOI stands for Spectacular, Physical, Recreational, Action-packed, Outstanding,
Inimitable. Its mission is to offer parents an active and healthy entertainment experience for their children with an unrivalled softplay and adventure facility in a safe, clean, purpose-built environment.
Spraoi cater for children age groups 0 – 13 years
Birthday Parties At Spraoi
With appropriately-decorated Party Rooms to suit both girls and boys and a food menu that includes 'healthy options', SPRAOI is ideal for birthday parties and special occasions. In fact, it's totally geared for parties, with specially-trained staff ready and able to look after groups to ensure they have a truly memorable experience.
And while the children are 'having a ball', their parents/carers/guardians can relax in comfort in the Spraoi Cafe with a perfect view of everything that's going on as they enjoy a coffee, tea, soft drink or a bite to eat.
Cost :- From €10 per child includes 75 minutes playtime, 45 minutes in a party room with food and juice.
You can book on line here through our booking link directly to the Spraoi Children's Fun World Party Booking.
Pick A Party Room For Your Birthday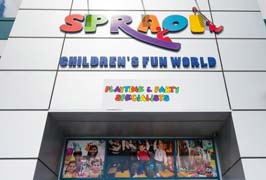 Balloon Room
Princess Room
Football Room
Disco Room
Princess Pamper Parlour
Spraoi Attractions
SPRAOI is designed to keep children physically active and entertained in a 2 hour long session in the vast maze of special Play Zones.
The special playframe, multi-coloured to appeal to the senses and padded for health and safety purposes, is fully insured and was installed by one of Europe's leading suppliers with a reputation for the quality of the products and their fitting.
Kids can climb, crawl, jump and explore all the aspects of the maze on three different levels and so enjoy a totally new fun experience.
The Play Zone special features are:
SLIDES – plastic slides in varying shapes and sizes for down-slope thrills
ROPE BRIDGES – heavy duty rope bridges spanning two areas to improve agility
STAIRS – running up and down small stairs is a real boost for fitness
TUNNELS – adding that little bit of mystery as you move from one area to another in a circular-shaped tunnel
FOOTBALL – a special area to practise soccer skills
CLIMBING FRAMES – great for fitness, agility and hand-eye co-ordination
TARGET ROOM – special 'air-toys' to propel soft-foam balls at targets
COLOURED BALLS – over 5,000 multi-coloured balls in several areas for kids to wallow in and play around
'SECRET AREAS' – where children can relax and catch their breath from their exertions
Spraoi Opening Times
September To June
Monday to Thursday 12.00 – 6.00pm
Friday, Saturday, Sunday and Bank Holidays 10.00am – 6.00pm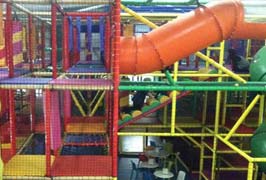 July and August
10.00am – 6.00pm everyday
Admission Prices
€8 per child (2 hours playtime)
Camps at Spraoi
Spraoi run Summer Camp, Easter Camp, Halloween Camp through the year
Summer Camps at Spraoi
At Spraoi they host Summer Camps to entertain the Kids during the Summer Holidays. The Camps this year are running from 30th of June to 29th of August (Monday to Friday) 9.30 to 1pm daily.
In their kids summer camps each group participates in activities that are suitable to their age.
Arts and Crafts
During Arts and Crafts camps for kids all children will participate daily in age appropriate arts and crafts activities.  The summer kid's camp offers the children a variety of materials including paper crafts, paint, clay and papier mache etc.  Assistants of the camps for kids guide the children during art activities when necessary, so as to ensure independent creativity.
Baking and Cooking
Sessions of either baking or cooking is tailored to suit the age and ability of the group.  All baking and cooking activities are conducted in a fun manner whilst they are allocated specific tasks such as mixing, beating, rolling, measuring etc.
Pamper Days
For the girls in camp they have specific days where they are treated to a pamper session in thrir purposely equipped pamper room. Pampering includes nail polish and hair design in a lighthearted and fun way.
All children have the opportunity during camp to play in the purpose built frame as all camps for children are held in Spraoi. It's a secure environment to let your children have fun with lots of space for play and activities.
Other activities include Treasure Hunts, Sports Days & Party Games!
Cost
€10 per day –Drop in or book in advance
Children bring their own packed lunch!
 You can book on line here through our booking link directly to the Spraoi Children's Fun World Party Booking.
Directions To Spraoi Children's Fun World in Dublin
SPRAOI Fun Centre is conveniently located on the Long Mile Road, between Crumlin and the Kylemore Road intersection, behind the ALDI store on the left of the dual carriageway as you drive towards the city.
Directions
From the Red Cow Intersection: follow directions to Dublin city centre on to the Naas road, with the LUAS line on your right. Continue till you come to the main junction and traffic lights. Woodies is on your left and a petrol station is on the right on the other side of the road
Take the Long Mile Road exit, cross over the LUAS line to the right and swing left on to the Long Mile Road heading for Crumlin. Drive along the Long Mile Road through two sets of traffic lights. After the second set of lights, you will see an ALDI store on your left – turn left here and Spraoi is in front of you facing a large parking area.
From City Centre: take the best route to the Naas/Cork/Limerick road. At the Naas Road/Kylemore Road junction (McDonalds across the road on the right, Mercedes-Benz building to the left), turn left and drive to traffic lights at Kylemore Road/Long Mile Road junction. Turn left and drive 500 metres until you see an ALDI store on your left. Turn left here and Spraoi is in front of you facing a large parking area