STARCAMP Summer Camps For Kids
What can you expect at Ireland's Number 1 Summer Camp in 2019!
This years theme; COMEDY! Because we all need a good laugh…. 
STARCAMP the fun and games Summer Camp promises to offer the absolute best, most exciting and varied Summer camp experience to date and you will not want your child to miss it.
Starcamp is the known and trusted summer camp.  Children will have the optimum fun in a safe and nurturing environment. They have won numerous awards and successfully secured backing on RTE's Dragons' Den.
STARCAMP offer all 3 areas of the performing arts – singing, dancing and acting along with many other exciting new and fun activities to give your child the best possible basis for well balanced growth and development in everything that they do.
Whether you are a boy, girl, sporty, shy, creative, eager, nervous, energetic, musical, fun loving, serious, self-assured or reserved – this is the camp experience that your child will love and will remember for a lifetime!
"STARCAMP – the Summer camp that the whole country is talking about!"
STARCAMP, is aimed at all boys and girls aged 4-12, and it is so much more than a performing arts camp. Born from a desire to instill confidence in children, STARCAMP offers a mind blowing array of activities for both boys and girls including a superhero masterclass taught by real superheroes, lots of new camp games, a daily arts & crafts section, fun news & weather reporting, and of course singing, dancing and drama.
There will be a finale showcase approximately an hour before collection time on the last day. (please note that children will only do their song and dance at this point, they will perform their movie scene for each other earlier in the day followed by a little "awards ceremony"!).
The eagerly awaited 2019 Movie and acting scenes include… Mary Poppins, Toy Story, The Lion King… and some Gangsta Granny for our David Walliams fans!
STARCAMP have a proven track record and an outstanding reputation that remains untouched.
STARCAMP Summer Camps
Starcamp offers a perfect mix of the following to provide maximum fun and confident, happy children;
Singing, dancing & acting! (chart toppers, Disney classics & movie favourites)
Open to all boys & girls aged 4 years to 12 years
Multiple games & activities (outdoors where possible)
Comedy and Jokes
Kids Newsdesk (news and weather reporting for kids, by kids)
Starcamp Arts and crafts (with fun and imaginative twists!)
Superhero masterclass (for younger age groups)
The StarCamp band (for the older age groups)
Friday finale show
Amazing surprises
Much more!
Children must wear comfortable clothes / shoes and bring a packed lunch & plenty to drink. (no chewing gum or nuts allowed please.)
All the talented, qualified staff are fully trained and Garda vetted.
Family Fun Tip:- Every child receives a Starcamp t-shirt, a Starcamp star award & surprises!
The STARCAMP Summer Camps Information
STARCAMP Summer Camp runs daily from 9:30 to 2:30 pm for 5 days in a location near you during the Summer holidays.
The camps run from the  first week in July to the last week in August.
Admission:- 1 Child €95, 2 Siblings €170, 3 Siblings €235, 4 Siblings €300
Further Discounts for Multiple Camps
Installment options available:-  Starcamp places are limited and every year so many of you are disappointed to learn that your preferred camp is fully booked. Book your place today online. You can also call us on 021-4377900 to book your place!
Booking Online – You can book online here through our booking link directly to the STARCAMP Summer Camp Online Booking
Starcamp Locations Nationwide::
Dublin, Galway, Kerry , Kildare, Kilkenny, Laois, Leitrim, Limerick, Longford, Louth, Mayo, Meath, Monaghan, Northern Ire, Offaly, Roscommon, Sligo, Tipperary, Waterford, Westmeath, Wexford, Wicklow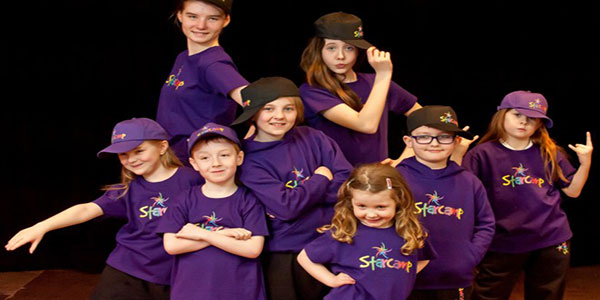 What They Are Saying About STARCAMP
STARCAMP Summer Camps are a clear favourite amongst Ireland's celebs too – Rachel Allen sent her child last year "My daughter took part in Starcamp and really, really enjoyed it, all the teachers were so kind and encouraging to the children and they put on such a great show at the end."
Pamela Flood had this to say "My little man had his 1st day at the FANTASTIC STARCAMP today! He absolutely LOVED IT! Well done to all. STARCAMP really does live up to its incredible reputation. It is the must do Summer camp for all children. It's not like any other."
Others who regularly speak highly of it include Jedward, Elaine Crowley, Ramona Nicholas, Alison Curtis and so many more.
STARCAMP has become a household name as parents ensure their child's place as early as November of the previous year, so make sure to secure your child's place as these camps book up early.