Talbot Suites at Stonebridge
Talbot Suites at Stonebridge are self-catering holiday apartments and are ideally located in the heart of Wexford Town close to Talbot Hotel and so many family attractions.
Stay at the Talbot Suites to explore Wexford's assortment of towns, exciting family attractions and outdoor activities for every enthusiast. Experience Wexford's movie-star beaches and a salty sea spray, where fish and chips and ice cream cones are a staple, walking barefoot in sand.
The Talbot Suites at Stonebridge comprises 69 Self-Catering apartments, with a seaview or internal courtyard view and with a choice of one, two, or three bedrooms that can be assembled to double or twin rooms according to your needs.
Each of the self-catering apartments is finished to the highest standard and includes floor-to-ceiling windows, a high-gloss fully equipped kitchen, TVs in all living areas and bedrooms, access to its own balcony, gas central heating, and complimentary WiFi.
Wexford is known for its beautiful boutiques, art galleries and restaurants. Talbot Suites are located just a 2 minute drive from Wexford Train and Bus Station, a 15 minute drive from Rosslare Europort and 1 hour 55 minute drive from Dublin Airport
There are many shops, restaurants, golf courses and visitor attractions in close proximity
Accommodation at Talbot Suites at Stonebridge
Self-Catering Apartments
Talbot Suites at Stonebridge features a mixture of one, two and three-bedroom apartments over 4 floors in a town centre location with a choice of sea views or courtyard views and are within a 2-minute walk of Wexford's main street, the main shopping area and town centre.  Guests will have access to complimentary secure parking and access to the Talbot Fitness Leisure centre located less than 100 metres away
Talbot Suites at Stonebridge is an ideal base for those planning on visiting Wexford for a luxury holiday break, a family stay, a weekend of golf or shopping and the Wexford Opera Festival
Apartment Facilities
Quayside and Town Centre location
Floor to Ceiling Windows
TVs, in bedroom and living space
Fully equipped High-gloss Kitchen with Oven, Microwave, Dishwasher, Fridge Freezer, Coffee Machine
Stunning views of the River Slaney, Raven Point, Ballast Bank, Wexford Town and Mount Leinster
Gas Central Heating
Full secure exclusive complex
Complimentary Private Car Parking
Each apartment has it's own balcony, most accessible from living room/bedroom
Free WiFi
Use of the Talbot Fitness Leisure Centre
Full access to Talbot Hotel Food & Beverage Services
Washing Machine & Dryer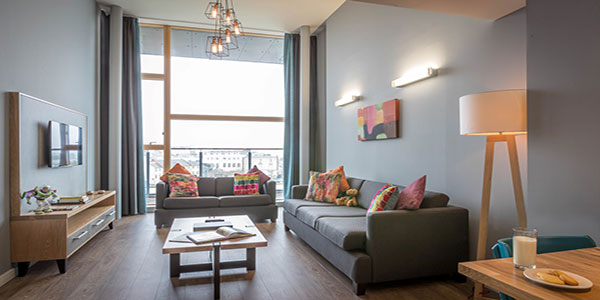 Talbot Suites Special Offers
The Talbot Suites at Stonebridge have special family offers running all year round.
Family Break Offer  2, 3 or 7 nights        Find out about packages here – Talbot Suites in Wexford

Talbot Suites at Stonebridge is the ideal location for your family break away.
Plan your Break today     2 & 3 Bedroom Apartments Available
A fully equipped self-catering apartment including:
Kitchen with oven, microwave, dishwasher, coffee machine
Comfortable living room
Washing machine & dryer
TVs in all bedrooms
Complimentary WiFi
€150 deposit
Family pass for Local Attractions*
*Local Attractions include a choice of the following: Wells House & Gardens, Irish National Heritage Park, Pirate's Cove, Secret Valley Open Farm & The Kennedy Homestead** To be advised at booking stage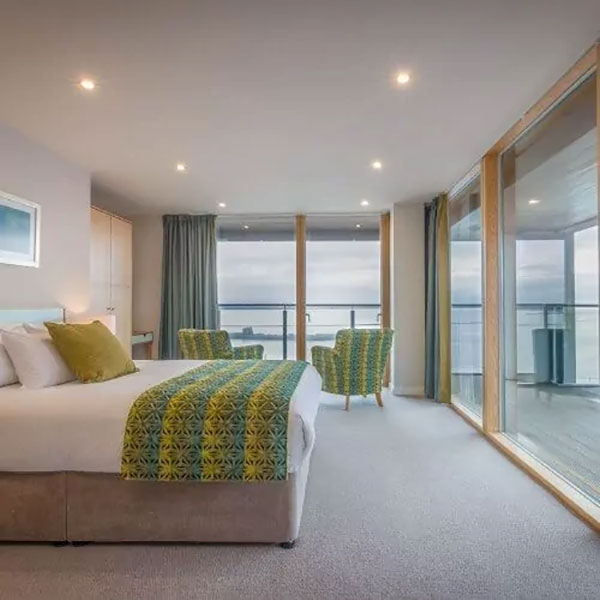 Fun Activities and Experiences
Families enjoying a luxury stay at the Talbot Suites at Stonebridge will be delighted by the world of fun activities and experiences that lie in wait in the surrounding area. Aside from Secret Valley Wildlife Park and fun-filled Bricks 4 Kidz studio, where little holidaymakers will be entertained for hours on end, adults and children alike can venture to the nearby Johnstown Castle & Gardens or the Dunbrody Famine Ship for a memorable lesson in Irish history. Other nearby attractions include Wells House and Gardens, Leisure Max, Kia Ora Mini Farm, the Irish National Heritage Park, Sew Fun Studios, WexWalks and so much fun in Wexford. Curracloe Beach, located just 15 minutes from the hotel, is Wexford's claim to Hollywood fame, having been used as a key location in the filming of the 1998 Oscar-winning blockbuster Saving Private Ryan. The scenic strand is a must-see for those visiting Wexford on a sunny summer's day.
Directions to Talbot Suites at Stonebridge in Wexford
Situated in Wexford Town, Talbot Suites at Stonebridge is a 5-minute drive from Train/Bus station, 15 mins from Rosslare Europort and 1 hour 55 mins from Dublin Airport.
Parking at Talbot Suites Stonebridge

Stonebridge Car Park is ideally located in the heart of Wexford Town, just 100m from Wexford's Main Street.
Their Multi-Storey Car Park is OPEN 7 Days Per Week from 7.45am to 10pm
All Levels of the Car Park are Monitored by CCTV
Car Parking is complimentary for guests at Talbot Suites Stonebridge
EV Charging
Talbot Suites at Stonebridge has 4 designated Electric Vehicle charging spaces that are situated on Level 1 of the multi-storey car park.
The charging spaces operate on first come first serve model and they do not take reservations for charging sessions.
They operate 4 22KW chargers (Type 2 socket).  You will need your own charging cable.
To be able to charge your vehicle you will need to become a member of EasyGo network.
Talbot Suites at Stonebridge