Wavesweeper Sea Adventures
Wavesweeper Sea Adventures is a Family run soft adventure company based on the Erris Peninsula in North West Mayo. Nestled between Blacksod Bay and Broadhaven Bay.  Wavesweeper offer a host of different experiences and cater for families and groups of all sizes and ages.
Belmullet boasts 12 discovery points on the "Wild Atlantic Way" and they offer their clients access to all of these points from the land and the sea.
Activities include Island tours, sightseeing tours and thrill rides. Go snorkeling for an exciting adventure in a whole new world. Go sea kayaking and experience Erris from a new perspective, learn a new skill and enjoy a great day on the water.
All Wavesweeper Sea Adventures guides, instructors and boats are fully licensed and insured.
Your Wild Atlantic Experience with Wavesweeper
Sample an authentic cultural and adventure experiences set against the dramatic backdrop of the Atlantic Coastline. Connect with the communities on the Erris coast, their traditions, ancestral heritage and contemporary way of life in North West Mayo.
Wavesweeper Kayak Experience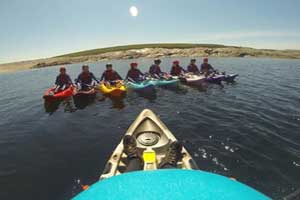 Get up close and personal with the elements and navigate around the ruined shores of Erris. Wavesweeper guides are fully qualified and insured and offer tours for all grades from novice to experienced and advanced level.
You pick a bay, you pick a day and Wavesweeper will see you there, you bring your friends and they will bring the kayaks, wetsuits, and instructors. Let the adventure begin!
Wild Atlantic Snorkelling Experience
You will venture into and under the waters of Erris, exploring some of the most beautiful, undisturbed shores along the Irish coast. Cliff faces, caves, kelp forests and sandy coves await you and provide a spectacular backdrop to the perfect family or group adventure.
Coasteering
Experience the rush of adrenelene when as you hurl yourself from the cliffs into the deep blue sea beneath you. Explore the hidden Caves and crevices of the Erris coast and climb back up the cliff face just to do it all over again.
Family Fun Tip:-
This is not for the "Faint of Heart", but trust me, you will never forget your first time coasteering.
If you're a non swimmer, that's fine as their guides will help you every step, leap and stroke of the way!!!
Broadhaven Bay, Ballyglass, Benwee Experience
(Option with Seafood Picnic Experience)
Explore the rugged Cliffs, Caves and Sea Stacks around Kid Island, a testement to the strength and relentlessness of Mother Nature. Navigate past the spectacular cliff face at Benwee head, one of the "Wild Atlantic Way" "Discovery Points", pull a lobster pot for sport!!
Take along their famous Seafood picnic to sample some of Erris' fine local produce freshly prepared for you on your return to the pier. ( freshly smokrd fish, lobster, crab, scallops, hot toddies and homemade bread)
Inis Gé Island Experience
This tour begins with the road literally ends!   Hop on board "Wavesweeper 2" at Blacksod Pier and prepare to tackle the Atlantic swells on the route to Inis Gé South.  Experience the crystal clear waters surrounding an island rich in history and heritage. Walk in the footsteps of those who called this remote Island home and visit the ruins of their ancient dwellings
Where To Stay in Mayo
Broadhaven Bay Hotel
A warm welcome awaits you at the Broadhaven Bay Hotel, Mayo. This luxurious family run Belmullet hotel overlooks the Broadhaven Bay with spectacular views of the Atlantic Ocean.
Broadhaven Bay Hotel offers everything from luxury spa breaks to great value family breaks and Wavesweeper Sea Adventures packages.
Directions To Wavesweeper Sea Adventures in Mayo
One hour drive from Castlebar and Westport, two hours from Sligo and Galway. Forty minutes from Ballina. Knock Airport is one hour and twenty minutes away.
See Google Map top of this page.