Address:
Punchestown Racecourse, Punchestown, Naas, Co. Kildare
Wild Scare Fun
Wild Scare Fun is a Halloween indoor obstacle course featuring obstacles from Wild Air Run.
Due to circumstances outside Wild Scare Fun's control the Halloween Event 'Wild Scare Fun'at Punchestown Racecourse has been cancelled.
Are YOU READY for the most thrilling haunted inflatable indoor obstacle course in Ireland? We challenge YOU to test your courage..
Begin the obstacle course by tackling the spine-chilling staircase start-line, zig-zag with the zombies through the maze and beware for the bogeyman in the giant ball pit. Over the course you will be frightened in true Halloween style. Before you can claim victory over Wild Scare Fun you will enter the Hall of Terror and finish indoors with Europe's Most Monstrous Slide.
Participants can also visit the 'Graveyard', where both participants and spectators can relax (if you dare) and enjoy music, games and food and drinks from local vendors.
The event is suitable for ages 5-75 however beware the scariness level increases as the night darkens!
Wild Scare Fun Fright Factor
Age recommendations have been laid out below. Note these are guidelines only.
BOO!
TRICK OR TREAT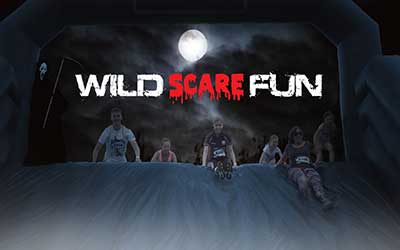 BONE RATTLING
TRULY TERRIFYING
Wild Scare Fun Event Information
Venue:- Punchestown Racecourse, Co. Kildare
Classification:- Family Obstacle Course Event / All Ages
NB: This is not a 5K event
Date:- Saturday, 29th October
Time:- 3pm-8pm with 20 minute waves
Admission:-
Adults (18+) – €27.50
Child – €15.50
Family of 4 – €72.50
Early Bird Price @ 20% Off Until 29th September
Adults (18+) – €22.50
Child – €13
Family of 4 – €60
Online Booking:- You can book online here through our booking link directly to the Wild Scare Fun ticket sales.