Dates:
From Sunday, 27th of November 2016 to Friday, 23rd of December 2016
Address:
Overend Way, Dundrum, Dublin 14
Tel.:
+ 353 1 969 6666


Please mention Family Fun when booking!
An Airfield Christmas Experience 2016
If a traditional family Christmas with fun for all ages is what you're looking for then come along to Airfield Estate
Experience a Christmas like never before at Airfield Estate this festive season. Enjoy a warm elf welcome before stepping into an enchanting festive tepee where you'll have the chance to write and post your letter to Santa Claus, before meeting the man himself for some story-telling and a special gift.
Specially selected by Santa himself, Airfield's elves will be on hand to greet all the good boys and girls with seasonal cheer before inviting them into a magical tepee. Write and post your letter, create Christmas crafts and watch some old fashioned, merry movies. Then it's time to meet our favourite festive fellow, Santa himself in his home from home at Airfield Estate for some story-telling and receive an early gift.
But that's not all. Get wrapped back up in scarves and gloves and pop over to the Christmas courtyard. Meet some of Airfield's newest arrivals, newborn farm animals and enjoy a cup of warm hot chocolate made with creamy milk fresh from Airfield's Jersey cows. Not forgetting Mums and Dads and Grannies and Grandads, they can stay cosy with seasonal mulled wine and browse or shop for something special at the Christmas market featuring quality Irish-made gifts and wonderful seasonal artisan food.
While all this is happening, the elves will be busy like Airfield's bees hard at work in the kitchen. Pop in and help them decorate some tasty gingerbread treats to bring home, if you haven't munched them all by then. Visit the Grey Barn and for a chance to see where Santa stores his sleigh. If that's not enough finish off your visit by stopping by the North Pole Express train and hop on board for a festive journey around the gardens.
As always sustainability is a key theme to Airfield's activities. Stop by the Polar Express Way and see a giant Christmas tree made entirely from tomato cans recycled from Overends restaurant.
Schools and community groups also have the chance to take part in a Christmas Tree Challenge. The challenge is to make a fantastic tree using only recycled materials … tin cans, plastic bottles, milk or egg cartons.
Send Airfield an image of your tree by Wednesday November 30th and the top ten will be chosen to go on display decorating the Polar Express Way alongside Airfield's tree. Visitors during the festive season will then have the chance to vote for their favourite and the winning group receives a trip to Airfield Estate.
If fun, family experiences all year round is what you're after then keep it going by giving family or friends a very special gift this Christmas with an annual membership to Airfield Estate. As Ireland's largest urban farm and food gardens experience, it's the perfect spot for a special family experience where all ages and generations can have fun and discover more about food, farming and the natural world. Family memberships range from €120 to €190.
Whether your on the naughty or nice list, Airfield Estate has something for everyone this year
An Airfield Christmas Experience Includes:
30 minutes in Santa's cottage with story-telling and gift receiving
Make a delicious Christmas treat
Activities with Santa's Elves in the magical tipis, including posting a letter to Santa.
Meet Airfield's newest animal arrivals
Write your letter to Santa & post directly to the North Pole
Take a surprise seasonal ride around the Estate.
Optional photo opportunity in Santa's sleigh
Airfield Estate Christmas Experience will last approx. 1.5 hours with 30 minutes of this time being allocated to a group Santa experience in Santa's cottage. The remaining time is allocated for you to enjoy other Christmas activities on the estate
Airfield Christmas Event Information
Venue:- Airfield, Dundrum, Dublin 14
Classification :- Family Christmas Event / All Ages
Dates:- 27th November, 3,4,9,10,11,16,17,18,19,20,21,22 and 23rd December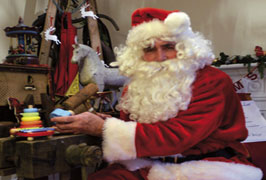 Admission: –
€21 per Child / €11 per Adult
Airfield Estate Members receive a discount on up to 6 tickets per membership. Additional tickets can be purchased at normal retail price.
Babies 0-12 months go FREE (no present), ticket is required.
Parents/Guardians who would like a present for 0-12month old, please select child ticket(s) and select 1-3 year old ticket, charges apply. Please note the presents are only suitable for the age range listed in the ticket selection.
Any older children that wish to attend with the family but do not require a present, please select an adult ticket(s) for them.
Please note that prices listed above do not include the booking fee of €1.50 per ticket.
Family Fun Tip:– Children are accompanied by an adult at all times
Online Booking:– You can book on line here through our booking link directly to the Christmas At Airfield ticket sales
Please note that there is a limited number of Children Tickets available per time slot.
Please arrive 20 minutes before your booked time to collect your tickets. Note that no latecomers will be admitted and unfortunately we cannot issue refunds for cancellations or latecomers.
The Airfield Estate Christmas Experience will last approx 1.5 hours with 30 minutes of this time allocated to a group Santa experience in the cottage. Visitors are advised to dress appropriately for outdoors and indoors as the Festive Fete takes part in different locations both inside and outside on the estate.
Directions To Airfield:- See the Google map at top of page
 "Happy Christmas and a Happy New Year from everyone at Airfield"