Name:
Castlecomer Discovery Park
Address:
The Estate Yard, Castlecomer, Kilkenny
Tel.:
353 (0)56 4440707


Please mention Family Fun when booking!
Castlecomer Discovery Park
Castlecomer Discovery Park is a multi-activity forest park set on 80 acres of mixed woodland in the former gardens and stable yards of the Wandesforde Estate south-east of Ireland 20 km north of the city of Kilkenny and 24 km from Carlow town. Open all year round the Discovery Park is an ideal location for a family day out with plenty of activities to enjoy both indoor and outdoor experiences.
Outdoors soak up the beautiful nature and wildlife of the 80 acres of mature woodland, which has over 6 km of walking pathways or relax and enjoy the thrill of catching rainbow trout on one of the restored lakes. Pedal boating and canoeing activities can be enjoyed on the second lake.
Children can enjoy viewing the rare animals that reside in the former walled garden as well as having great fun in the charming Timber Tumbles playground which includes a mini zip-wire and climbing wall, designed especially to reflect the natural beauty of the park.
Relax in the beautifully restored stable yard which boasts a wealth of local craftspeople who produce, display and sell their inspiring crafts or enjoy some refreshments in the wonderful family friendly Jarrow Café.
Picnic tables are located in the parkland by the river's edge close to the car park and children's playground and there are also a number of more secluded picnic spots located along the woodland walks
When you discover this wonderful multi-activity park you are greeted with so much to see and do. Castlecomer Discovery Park, come along and join the fun for all the family!
Castlecomer Discovery Park Attractions
There are many attractions for all the family to enjoy.
80 acres woodland
6kms walking trails
Fishing Lakes
Boating Lake
Animal sanctuary
Adventure Playground
Picnic Areas
Jarrow Café
Craft Yard
Zipline course
Octagon High Ropes Course
Tree Top Walk Adventure
Yoga & Healing Centre
3 permanent orienteering trails
The Coal Mining Exhibition
Visit the Coal Mining Museum and discover a world where prehistoric amphibians swim and walk through enormous swamp forests, where giant insects fly through the treetops and giant millipedes crawl through ferns and mosses. Discover the coal formed from those forests and the skeletons of those early amphibians preserved for 300 million years. Discover the men who worked the coal seams and those who brought the fossils to light.
First through the use of life-sized reconstructions of prehistoric animals and plants, video clips, fossils, rock specimens and information panels, prehistoric life in the coal swamps of the Carboniferous Period is brought to life. Then life sized and scale models of the mines, displays of mining artefact's, information panels and video interviews with ex-miners and the families of those associated with the mines bring to life more than 300 years of coal mining history.
All of this and more is to be discovered in the Coalmining Museum – 'Footprints in Coal' which focuses on two distinct but interlinked eras of Castlecomer's History – the formation of coal during the Carboniferous period about 300 million years ago and the coal mining industry that came much later.
Admission:-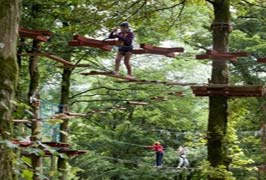 Adult €7.00
Child (4 – 12 years) €5.00,
Child under 4 Free
OAP/Student €6.00
Family (2 adults + 2 child) €20.00
Family (2 adults + 3 child) €22.00
Family Fun Tip :- Before visiting the Exhibition, check in with the reception desk and pick up a questionnaire for the children. These questionnaires are free and will help the children to locate specific items in the exhibition. It will also inject a healthy dose of competition among the children if there is more than one.
Family Outdoor Activities At The Castlecomer Discovery Park
New activities introduced in 2016 – Zipline and high rope course
Castlecomer Discovery Park is home to the longest over-water zipline in Ireland! It is 300 metres long and 35 metres over ground at its highest point. Visitors zip over our stunning woodland, two lakes and 17th century hand-restored bridge.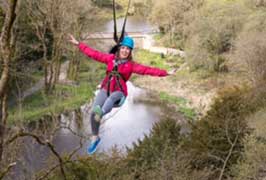 The exhilarating zipline is accompanied by the Octagon High Ropes Course. Set on an octagonal frame over two levels, this presents a series of challenges in the form of nets, ropes, wooden bridges etc. The Octagon is more challenging than the existing Tree-Top Adventure Walk Course.
It is particularly suited to groups and for team-building exercises. Contact us to make a large group booking (056-4440707).
Cost:
 Zipline only is €15 per person (1 turn) or €20 per person (2 turns).
Advanced High Ropes Course only is €15 per person.
Bundle of Zipline and Advanced High Ropes Course is €25 per person.
Please note: Restrictions apply. Zipline and Octagon High Ropes Course participants must be age 12+, minimum height 1.3m and maximum 120kg weight. You should arrive in Visitor Centre at least 30 minutes before allocated time to register. The start of the course is approx. 15 min. walk from the Visitor Centre
Tree Top Walk
Try completing the new Tree Top Adventure Walk at Castlecomer Discovery Park. This new activity is one of the most popular attractions kids and families. Walk high above the tree tops, ten metres above the ground, this 140 metre long course gives a birds eye view of the park to those brave enough to take the walk. It is pertect for a family adventure, team building, or school trip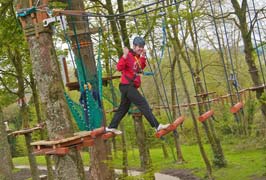 Cost: €12.50 per person with a 10% discount for a family of four (2 adults, 2 kids). Bundle deals also available in conjunction with other Discovery Park activities.
Booking:-  is essential for all Tree Top Adventure Walk activities. Please call +353 (0)56 444 0707 for bookings.
Family Fun Tip:- Minimum height and age restrictions apply. Age 7+
Climbing Wall & Leap of Faith
The outdoor climbing wall has various levels of difficulty for all to enjoy.
Experience the daring 'Leap of Faith' – all you have to do is climb the 7 metre pole, balance on the platform and take a 'leap of faith' aiming for the target before being assisted back to ground level – and that all !!
Cost:- Climbing Wall & Leap of Faith €10 per person, Tree Top Adventure Walk, Climbing Wall & Leap of Faith Package Bundle Deal €20 per person.
Minimum age, height and weight restrictions must apply: You must be 7+ years, 1.2 metres in height; maximum weight 120kg/19 stone
Booking:- Please call +353 (0)56 444 0707 for bookings.
Boating Activities For All The Family
Visitors to Castlecomer Discovery Park can enjoy our NEW boating activities on the larger of the 2 picturesque lakes, in stunning natural woodland setting. The lakes are surrounded by a variety of magnificent trees, and you can admire the backdrop of the beautiful recently restored 17th century stone bridge.
The introduction of boating activities gives you the chance to sit back, relax and enjoy the beautiful surroundings of the Discovery Park woodland. So whether you're after a faced paced or leisurely cruise around the lake you can still fit in some exercise while having fun on the pedal boats and Canadian canoes.
Please note pre-booking is essential for all Boating activities. Please call +353 (0)56 444 0707 for bookings.
Boating Guidelines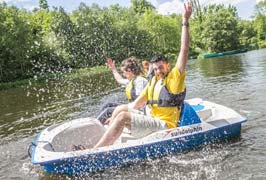 €10 per boat for 30 mins
MAX 5 persons per paddle boat
Max 3 persons per canoe
Change of clothes recommended
Suitable footwear required(no flip flops)
Children Under 14 must be accompanied by an adult
Min age is 6 years of age
Family Fun Tip:- Misconduct will result in removal from the lake, no jumping into the water.
The Park Orienteering Trails
They have three permanent courses vary in distance; 1km short, 2km medium and 3km long, each course has a number of codes secured to wooden posts throughout the 80 acres of natural woodland.
laminate maps can be purchased for €5, includes a €2 deposit on return of the map;  participants are shown the answer sheets at the reception desk of the visitor centre on return of the maps. This is a self-directed activity, and can be done 7 days per week from 9.30am – 5pm – or until 8pm if you wish to forego your deposit.
Family Fun Tip:- Suitable outdoor clothing and footwear are advised.
Opening Times At Castlecomer Discovery Park
Castlecomer Discovery Park is open all year round.
Weekday opening times: 10am-5pm (last admission to the Coal Mining Exhibition starts 45 minutes before closing time).
Weekend opening times: 10.30am-5pm (last admission to the Coal Mining Exhibition starts 45 minutes before closing time).
Admission To Castlecomer Discovery Park
Entry to the park is free with a nominal charge of €2 for all day car parking.
Seasonal Activities At Castlecomer Discovery Park
As well as the ongoing family trails in the Castlecomer Discovery Park , they also organise specific seasonal events for families usually based around the woodlands.
To Find Out More About Santa At Castlecomer Discovery Park
The also run Easter Egg hunts and special Halloween trails and events
To Find Out More About Easter At Castlecomer Discovery Park
To Find Out More About Halloween At Castlecomer Discovery Park
Castlecomer Discovery Park School Tours
The Discovery Park's Education team are delighted to announce the development of  activities in the Educational and Recreational programme for primary and secondary school students.  The education programmes are fresh, innovative, exciting and make learning fun with specially themed modules which involve everybody. All activities are curriculum linked and they are accredited under the Discover Primary Science Programme. The activities are suitable for team bonding to improve the class room dynamic at start of term or as an end of year activity.
Bookings are possible throughout the academic year for Transition Year outings, PE classes, school tours and your school field trips. Details of all courses below, for advice on making a booking call 056 4440707 to speak with Mary
Accredited under the Discover Primary Science & Maths Programme.  The DPSM Programme runs from September-April. They also combine educational and recreational activities for school tours.
Primary school programmes:
Coal Mining Exhibition
Water Ecology
Invertebrate Collection
Scavenger Hunt
Nature Trail
New Modules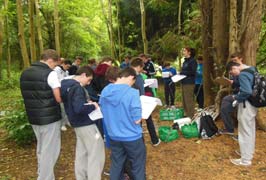 Geology & Rocks
Weather & Climate
Maths & Numeracy Trail 
Secondary school programmes:
Leaving cert & Junior cert Ecology field studies
LCVP(leaving cert vocational programme)
LCA(leaving cert applied)
Transition year activity day
New Modules
Exploring Tourism & Environment
Geology & Rocks
Weather & Climate
Angling at Castlecomer Discovery Park
The grounds also contain two lakes contain 2 lakes, the lower is reserved for bait and fly fishing. Originally these lakes were designed by the Wandesforde family to add to the beauty of the estate and were used for both boating and fishing. However the lakes are now fully re-instated with angling stands to allow full access to the water and a series of cascades link the lakes and channel the water back into the.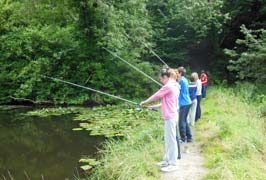 There is a charge of €15 for a four hour  fishing permit. Rods can be hired and there is an angling shop where bait and flies can be purchased. A course in Fly Fishing is now also available to children and teenagers.
History of Wandesforde Estate
The Wandesforde family came from Yorkshire in England and were granted lands in Castlecomer in 1636. Over one hundred years later, Anne Wandesforde married John Butler, heir to the Butlers of Ormonde and she became the Countess of Ormonde. Her older sons, William and James became the 18th and 19th Earls of Ormonde and the youngest son, Charles inherited the estate at Castlecomer. Charles Wandesforde took a great interest in the mining and worked to improve conditions and assist his tenants and workers.
The original Castlecomer House was built in 1638 and was destroyed during the Battle of Castlecomer during the Rebellion of 1798. Lady Anne rebuilt a larger house in 1802 but this eventually fell into disrepair and was demolished in 1975. No trace of the house, which actually was sited on the other side of the Dublin/Kilkenny road remains today.
Like many large landowners at the time, the Wandesforde family spent time improving their grounds to create an idealised landscape. One major part of this was the construction of two artificial lakes, which would have been used for fishing and boating. In 2004, the lakes were re-instated as part of the restoration and clearance of the woodlands, and are now used for rainbow trout angling. A replica of the Wandesforde family boathouse has also been constructed on the original site on the lower lake.
The Design Yard is located in what was the farmyard and stables of the Wandesforde family in the 1700's. The buildings have been converted and are now used by a host of artists and craftspeople. Craft Shops include pottery and ceramics, jewellery, stone carving, painting, antiques, furniture restoration and Mitzy Kilkenny.
Located inside the visitor centre, the gift shop stocks a wide range of inexpensive gifts, toys and souvenirs for all the family with an emphasis on education and the outdoors. It also plays host to the delightful Jarrow Café.
Directions To Castlecomer Discovery Park
From the centre of Castlecomer town take the N78 towards Dublin, go over the bridge and after 200m you will see the main iron gates for Castlecomer Discovery Park on your left.
Coming from the Athy or Carlow direction, Castlecomer Discovery Park is on the right hand side just before you enter Castlecomer town. There is parking on site for cars and buses. Just follow the signs as you come in through the main gates.