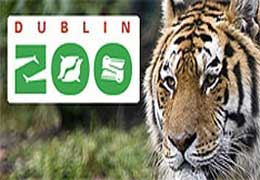 Address:
Phoenix Park, Dublin 8
Telephone:
01 4748900


Please mention Family Fun when booking!
Dublin Zoo A Family Attraction
Dublin Zoo in the Phoenix Park is one of the top three family attractions in Ireland and one of the very best places for a family day out, combining fun with some learning about the world we live in. Kids of all ages will love the huge range of animals on view – from the City Farm to the African Plains. For over 170 years children from all over Ireland but especially Dublin have been enjoying a day at the Zoo.
In spite of the current economic climate, Dublin Zoo still clearly represents a good value day out also, as demonstrated by the 931,866 visitors who visited in 2008 – making it the busiest year ever for the zoo. And the animals were very busy too in 2008 which saw a real baby boom with the birth of an elephant, white rhino and sea lion, to mention a few.  The very latest addition arrived on the 4 of January last – the first giraffe calf.
Dublin Zoo now occupies 60 acres of the Phoenix Park and has a huge range of animals and birds on view. There are approximately 35 Zoo Keepers who work in shifts to care for the animals around the clock.
Dublin Zoo is one of the oldest zoos in the world and when it opened in 1831, animals were seen as exhibits. This, of course, has all changed now and the Dublin Zoo is involved in conservation and research in partnership with zoos around the world. Government investment and the donation of 30 acres of what was Aras an Uachtarain land, in 2000 led to the development of the African Plains which houses animals in environments that are far better suited to their needs, than the enclosures of the past.
Development is on-going at Dublin Zoo and so there is always something new to see and experience. Current plans include the development of a Gorilla Rainforest which will provide a new home for the Gorillas whose current enclosure is not ideal.
Visiting Dublin Zoo
Dublin Zoo is a magical place for children. Once inside, the Victorian buildings, elegant landscaping and the exotic animals sounds all add to unique excitement. Be sure to take in a Keeper Talk and take a trip on the Nakuru Safari. Don't miss the City Farm or the World of Primates, Fringes of the Arctic and the World of Cats.
At certain times of the day, keepers whilst feeding the animals are available to answer any questions you may have.
African Savanna At Dublin Zoo
In April 2009, President Mary McAleese officially opened the newest area of Dublin Zoo, the African Savanna, which has been developed as part of the African Plains. Using Donegal sandstone and 6,000 cubic metres of sand, an area of 22 square metres, formerly belonging to Aras an Uachtarain is now home to animals more usually seen in Kenya.
The Savanna has been created in order to improve the lives of many of the larger African animals and allows for many of them to be located together in an environment that more accurately mimics their traditional habitat. Animals in the Savanna include the Giraffe, Zebra, Ostrich and the exotically named, Scimitar Horned Oryx, which apparently is an endangered species already extinct in the wild.
The Family Farm At Dublin Zoo
Bringing a lot of country to a little part of Dublin's city centre. The Family Farm is Ireland smallest farm with an acre of fun that represents an island of farming.  The main attraction tne animals, the new beef cow and calf, the ewe with her four little lambs, the weaner and Tamworth Pigs, pygmy goats as well as geese and hens. There is even a dairy cow, which can be seen getting milked on the farm everyday! There is a playground full of model animals also captures children's imagination and a  farmhouse school which will be a hub of learning, children can learn about agriculture in the classroom during their school tours and then just step outside to experience it for themselves. Children will get the opportunity to become mini-farmers by helping plant their own vegetables and learn about the importance of Irish hedgerow plus much more!
Meet The Keepers At Dublin Zoo
Hear expert Keepers make daily presentations about the animals in their care and conservation work being done for that species
Dates
March – September: Daily
October – February: Weekends
Times
11:30   Ring-tailed Lemurs
11:45   Orang-utans
12:00  Reptiles
14:30   Penguins
12:45  Giraffes
15:00   Rhinos
Keeper Talk
11:15  Sumatran Tiger
12:30   Elephant Encounters
12:45  Chimpanzee Chat (African Plains)
14:15   Sealion Splash
Dublin Zoo Opening Times
Last admissions are one hour before closing.
Children must be accompanied by an adult and teenagers may require ID
January
09.30 – 16.30
African Plains closes at 16.00
February
09.30 – 17.00
African Plains closes at 16.30
March – September
09.30 – 18.00
African Plains closes at 17.30
October
09.30 – 17.30
African Plains closes at 17.00
November and December
09.30 – 16.00
African Plains closes at 15.30
Dublin Zoo Admission /  Family Admission
Children under 3 FREE – Children must be accompanied by an adult at all times.

Child (over 3 and under 16)                 €10.50 - Teenagers may be required to show ID.

Adult                                                    €15.00
Senior Citizen                                        €12.00
Special Needs Child                               € 5.50
Special Needs Adult                              € 8.70
Student (need Student ID card)           €12.50
Dublin Zoo Family Admission / Group Admission
Family Ticket  (2 adults and 2 children)                  €43.50
Family Ticket  (2 adults and 3 children)                  €49.00
Family Ticket  (2 adults and 4 children)                  €52.00
Groups – parties over 10           Adult   €12.50           Child   € 8.00
For further enquiry on   rates and group discounts     Tel. (01) 474 8900.
Dublin Zoo Membership
Allows free admission to Dublin Zoo for one year. Dublin Zoo members are also admitted free to Fota Wildlife Park (Cork), as well as Chester Zoo, Edinburgh Zoo and Paignton Zoo in the UK
Membership Type
Individual Membership  €100.00
Is suitable for two adults.
Family Membership   €160.00
Member + 3 Adults or
Member + 2 Adults + 2 Children or
Member + 1 Adult + 4 Children or
Member + 6 Children
Dublin Zoo Facilities
There are other facilities at the zoo to make your visit more enjoyable from Shop, Restaurant, Kiosks and the Nakuru Safari Ride. There is also Disabled access to 90% of the Zoo and wheelchair are available.
Family Fun Tip For Visiting Dublin Zoo.
It is well worth doing a small bit of research and planning your visit before you actually arrive.  Familyfun.ie lists many of the animal feeding times which can become a show in themselves and there are also 'meet the keeper' sessions and 'keeper talks' at various times during the day.
Although there are several cafes at Dublin Zoo, it is also a great place for a picnic. There are plenty of picnic tables in the grounds. But if you don't want to carry your picnic around you can always choose to have it across the road in the Phoenix Park before or after your visit. That way you can leave your picnic bag in the car while you visit with the animals.
It is also possible to download a map of the Zoo, which has grown hugely in the last decade.
Download … Dublin Zoo Map
Getting to Dublin Zoo
10/10a, 25/25a, 66/66a/66b, 67/67a, 68, 69
Phoenix Park Shuttle Bus from Park Gate Street (beside Hueston Station). This service operates every 30 mins, 7 days a week -Weekdays 7am – 7pm / Weekends and Public Holidays 10am – 7pm. and takes  a circular route inside the park, stopping at Dublin Zoo, the Visitor Centre, the Papal Cross and Farmleigh. Yu can hop off and on at any stop.
Price for this bus
Adult   €2
Family  € 5
Child   €1
DART
 Take the feeder bus no 90 from Connolly or Tara Street Dart Stations.
Take the Red Line to Hueston Station. The zoo is a 15 minute walk or hop on the Phoenix Park Shuttle Bus from Park Gate Street (beside Hueston Station).
The shuttle bus operates every 30 mins,7 days a week - Weekdays 7am – 7pm / Weekends and Public Holidays 10am – 7pm
Events At Dublin Zoo
In keeping with the modern ethos of conservation and education, Dublin Zoo has a programme of events camps and workshops catering for children and adults alike.
The children's programmes include specific schools programmes for all ages (post primary, primary and pre-school). Dublin Zoo also offers a range of workshops, camps and activity for children of various ages.
The Zoo education centre also offers some adults events including events tailored to the Active Retired
History Of Dublin Zoo
The Royal Zoological Society of Dublin was founded on 10th of May 1830 at a meeting in the Rotunda Hospital. Within a year the Lord Lieutenant had donated over 5 acres of the Phoenix Park for the new zoo. Dublin Zoo opened on the 1st of September 1831 and the first animals on view all came from London Zoo.
The original entrance to the Victorian Zoo is still visible to the right of the current entrance. It is a cottage style building with a thatched roof, built in 1833 at the cost of £30.
In 1838, to celebrate Queen Victoria's coronation, Dublin Zoo held an open day and 20,000 people visited – still the largest number of visitors ever in one day.
Many of the animal buildings immediately inside the entrance to the zoo date from this time and give the Zoo an air of elegance and antiquity which is unique.
How To Help Dublin Zoo
Looking after the animals at Dublin Zoo is a costly business. It costs in the region of half a million euros a year just to feed them.
There are many ways you can help Dublin Zoo.
Membership – which entitles you not only to visit Dublin Zoo and Fota Wildlife Park in Cork but also some zoos in the UK.
Adopt an Animal – from gorillas to penguins, Dublin Zoo offers three different categories of adoption. An ideal present.
Make a donation – call Dublin Zoo on  01 4748900  to make a donation.
Volunteer – there are a myriad of roles for volunteers at Dublin Zoo.