Crag Cave
A visit to Crag Cave Kerry will delight and enthrall families and children all ages and they also offer fantastic school tours. The friendly guides will be pleased to explain the origins of the cave, describe its many beautiful formations and introduce visitors to a world older than mankind.
Discovered in 1983 and thought to be over one million years old Crag Cave is a magical wonderland of stalagmites and stalactites. It is an all weather visitor attraction located in Castleisland Co. Kerry.
The cave itself is 3.82km long and you will be guided through 350m of it. Crag Cave is the longest cave in Kerry and the seventh longest cave in the Republic offering one of the finest examples of limestone cave formation in Ireland! Why not explore with your family the incredible examples of pillars, stalactites, stalagmites that have been meticulously forming over the last 15,000 years.
The Visitor Centre at Crag Cave is home to their Garden Cafe and extensive Gift Shop! The Garden Cafe offers delicious home cooking with homemade scones and pastries available from 10am. Hot meals, light lunches, healthy salads and tasty treats are all available daily! They also have a Gift Shop with a large range of fashion items, bespoke household items and Irish souvenirs.
Each winter, they have a Christmas gift shop, where visitors can choose from a select range of Christmas gifts and decorations.
Gift vouchers can be purchased online and redeemed in the gift shop, Crag Cave tour and Crazy Cave Soft Play Centre.
Visitors can avail of free Wi-Fi and parking
Crag Cave, Castleisland is also home to the indoor and outdoor activity centre Crazy Cave.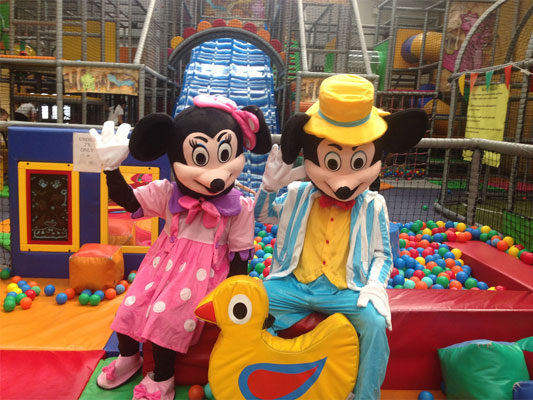 Crazy Cave Activity Centre
Located at Crag Cave Visitor Centre, the Crazy Cave Activity Centre is an all-weather facility perfect for children up to 12 years of age.
Children will have fun-filled hours climbing, sliding, rolling, juggling, shooting and exploring. At Crazy Cave they know what a happy child looks and sounds like – and beaming smiles, peels of laughter, shouts of joy and squeals of excitement are the sounds that fill their activity kingdom where kids reign!
There's something for the whole family on 2 floors of fun. What do you think your kids are going to rate as their number 1 activity after their visit?  Will it be the Mega Astra Slide, the climbing frames or the ball guns? Are your kids going to play hide-and-seek in the Crazy Cave Maze or test their balance on the rope bridge? Maybe they're going to whizz down the spiral slide on their way to the indoor sports court or simply enjoy family time with you in the ball pools and with the ball juggler?
The Crazy Cave Activity Centre is Co. Kerry's number 1 house of fun! Crazy Cave covers two floors and has a wide range of fun filled areas. An all weather location, Crazy Cave is ideal for children up to 12 years of age! It consists of a baby area, a toddler area and a sports area to cater for all age groups.  It is an ideal party venue with activities such as ball guns, Crazy Maze, rope bridges, a spiral slide and ball juggle.
All children must be supervised while at play in the activity centre by an adult and must wear socks at all times.
School Tours At Crag Cave
When you visit the caves, the staff at Crag Cave provide teachers notes and students worksheets to help your group get the most out of your visit. The tour guides take each group through the Cave and every effort is made to ensure maximum benefit to the students from their visit to Castleisland's Crag Cave. Teachers are welcome to participate in the tour and receive a booklet together with worksheets to follow up later with their class. The Cave tour takes approximately 30 minutes and the price is €5.00 per child. Crazy Cave Softplay is suitable for children up to 6th class. The play session is 90 minutes and the price is €7.00 per child for school groups.
For further enquiries and bookings please call 066 714 1244.
Events At Crag Cave
Crag Cave in December is turned in Santa's Winter Wonderland. It is a truly magical experience not to be missed.
To Find Out More About Santa's Winter Wonderland At Crag Cave
Birthday Parties at Crag Cave
The Play and Party (€13.95 per child) includes one and a half hours play and a half hour in the party room with hot & cold food. The food includes chicken nuggets, sausages, chips, drinks, popcorn, crisps and sweets). There will be two complimentary teas/coffees for each parent, a group photograph and a return voucher for the Birthday Boy or Girl. Again Crag Cave will supply unlimited juice during play.
Crag Cave Admission Rates
Adults: €15.00
Students: €12.00
Seniors: €12.00
Child (0-3 yrs): free
Child (4-16yrs): €6.00
Family: (2 adults & 2 children under 16 years) €35.00
Family: (2 adults & 4 children under 16 years) €40.00
Group Rates – Please contact Crag Cave Visitor Centre on 066 7141244, or email [email protected]
Crazy Cave Soft Play Admission Rates
Child (2+): €9.00
Child (12-23mnths): €7.00
Child (7-11mnths): €5.00
Child (0-6months) Free
Adult – Free (limited to 1 adult per child)
Admission Rates For School Tours
Secondary school students:
€5.00 for admission to the cave
Primary school students:
€5.00 for admission to the cave (30 mins)
Crazy Cave €9.00 (90 mins)
Group Meals €5.00 per child. – (Chicken nuggets, cocktail sausages with chips & minerals)
Crag Cave Opening Hours
January – March
10am – 6pm Fri/Sat/Sun
April – October
10am – 6pm Daily (until November 5th)
06 November to 23 December 2023

10am – 6pm Thurs/Fri/Sat/Sun
Tours of the cave are self guided and last approximately half an hour.
Accessibility
To access the Crag Cave Tour, visitors need to climb 72 steps. Unfortunately, the attraction is not accessible for wheelchairs, prams or pushchairs.
All other areas of the Visitor Centre, Activity Centre, restaurant, toilets and gift shop are fully accessible.
Crag Cave Directions
Crag Cave is located 2km outside Castleisland town just off the N21. It  is 15 km from Tralee and 25km from Killarney and 80 km from Limerick.