Dates:
From Friday, 2nd of December 2022 to Friday, 23rd of December 2022
Venue:
Santa's Winter Wonderland
Address:
Crag Cave, Castleisland, Co.Kerry
Tel.:
+353 (0)66 714 1244


Please mention Family Fun when booking!
Santa's Winter Wonderland At Crag Cave 2022
Meet Santa, his elves, his reindeer, see the snow scenes, his bedroom, polar bears, toy shop, have a go on an animated Reindeer ride, play time in Crazy Cave & lots lots more.
A truly magical experience not to be missed!
This year Santa will be returning to Crag Cave once again in December to meet all the boys & girls in his Winter Wonderland.
Santa's Winter Wonderland is located upstairs in Crazy Cave our children's softplay centre. Santa's elves will greet each family on arrival & lead them through the Christmas experience.
Each family will visit Santa on their own in his grotto. Please note that this year Santa may still be socially distanced in his grotto depending on the situation in December. After meeting Santa the elves will show the children his bedroom & the elves bedroom & Santa's post office, from there they will make their way down to the Toy Shop where Santa's Chief Elf will have a present for each child.
They will then make their way back out into the play area where they will get an hours play time in Crazy Cave softplay centre included in the visit. They can also have a go on Santa's animated reindeer if they wish.
Rudolph & some of Santa's other live Reindeer can be seen outside.
Please note that photographs are not included in the price. Santa's elf will take a photograph of each family & it can be viewed after the play time in the Christmas Shop & purchased if desired.
Please also note that Santa's elf is not a professional photographer & our elves will be happy to take photographs for you on your devices as you make your way through the experience, if you wish.
Find more information at Crag Cave Winter Wonderland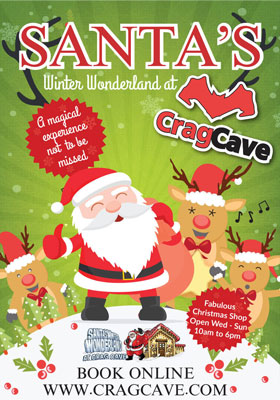 Christmas Shop At Crag Cave
Do not miss their Christmas shop, it is a truly magical experience to browse through the fantastic range of seasonal decorations and view the outdoor lighting display. There is also an unusual range of gift items suitable for all budgets among them beautiful Silver and Costume Jewellery, Books, Paintings, Clothing, Hobby and Interest Items, Toys and lots of Christmas Treats for the family.
The Visitor Centre At Crag Cave
The visitor centre at Crag Cave offers a new garden restaurant with a delicious new menu and lots of home cooked Christmas treats! Turkey and Ham followed by mulled wine and home made mince pies is always a favourite however there are a wide range of other hot meals and tasty snacks on offer. A special children's menu is also available.
Santa's Winter Wonderland Event Information
Venue:- Crag Cave Indoor Activity Centre Kerry
Classification :-  Family Christmas Event  / All Ages
Date/Time:
December 2nd – December 23rd
Saturday and Sunday
Wednesday to Friday
Admission:-
€15.00 per baby
€25.00 per child
€10.00 per adult
Booking Online – Book Online Now Through Santa's Winter Wonderland
For Group/School bookings please contact (066) 7141244