The K Club – A Family Friendly Hotel Kildare
The Kildare Hotel Spa and Country Club  is a family friendly hotel set on 550 acres of pristine parkland  on a mile long private stretch of the River Liffey in Straffan, Co. Kildare, offering luxury family holiday package breaks for parents with children of all ages.
The K Club is nestled in stunning Irish countryside, and has its own little private stretch of the River Liffey for fishing or just to stroll alongside. In this picturesque setting, The K Club offers a plethora of countryside activities such as fly fishing (with lessons), course fishing, archery, horse riding and clay pigeon shooting. There's also a children's playground in the walled garden and golf buggies to explore the courses and grounds.
Inside The K Club, your family will receive the warmest of welcomes in the most luxurious of surroundings. This world-renowned hotel is designed in the classic country house style and the atmosphere is inviting and restful. They provide dedicated activities for children, such as kids bicycles to tour the resort, colouring books delivered to your room, picnics, children's DVDs and of course the kid's club where your child will be entertained by our professional team who organise exciting games and creative activities every day. It's in the little things, like not only offering a beautiful swimming pool (in our hotel's Spa) but providing swimming lessons on request, that makes families feel like their children are truly welcomed. The helpful staff will also organise shuttling to and from Naas Cinemas to see the latest kids' films, or arrange trips to nearby Dublin Zoo. Of course, babysitting is available (with 24 hours' notice) so you can enjoy a Spa treatment, a round of golf or a fabulous meal in the hotel's restaurant.
The K Club Family Friendly Accommodation
The K Club offers a range of family-friendly accommodation including interconnecting family rooms, luxury pull-out sofa beds and two-bedroom suites.
Special Amenities for your family:
• Children's DVD collection
• Colouring packs
• Tailored children's menus in all our restaurants
• Babysitting service on request
• Non-alcoholic cocktails
• Morning & evening service
• Children's bathrobes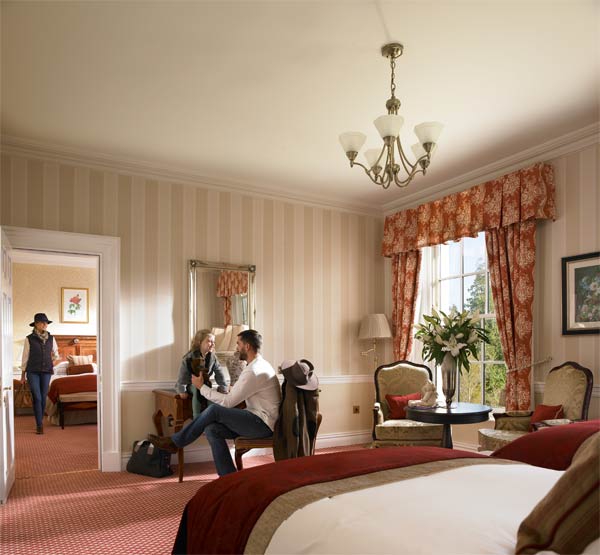 The K-Cubs Kids Club
The K Club have a dedicated Kids' Club with a wide range of activities suitable for kids of all ages. At 'K Cubs'  their service offers parents the opportunity to relax and unwind safe in the knowledge that their children are being cared for and enjoying themselves with our extensive activities.
What does a typical day at 'The K Cubs' look like?
11am: Painting (Disney characters)
12pm: Walk/Playground/Frizbee/Bubbles
12:30pm: Break
12:50pm: Pillow – Create your own Disney character
2pm: Finish
The K Cubs activities are supervised at all times and are available to children aged 3 years and over. Children under three are welcome to attend accompanied by a parent/guardian.
Kids' Activities
• Kids' bicycles to tour the resort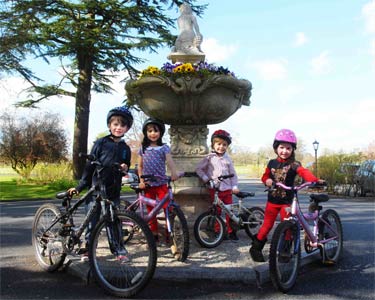 • Golf clinics for budding young golfers
• Air rifle shooting
• Falconry
• Horse riding
• Swimming pool
• Children's playground in the walled garden
• Learn to fly fish on the river Liffey
• Children's DVDs
• Picnics to cater for all your family's needs
• Colouring books can be delivered to your room for your children.
The K Club offers the perfect base for fun activity/adventure holidays for children and adults alike.
Booking:- To make a reservation please call +353 (0)1 6017 200 or you can book online here through our booking link directly to the The K Club online reservation.
Family Friendly Deals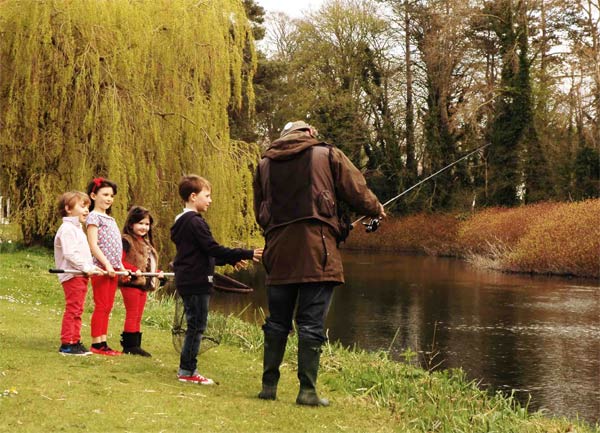 Summer Family Fun
Booking:- To make a reservation please call +353 (0)1 6017 200 or you can book online here through our booking link directly to the   The K Club Kildare Family Packages and Special Offers
Family Attractions In Kildare
The K Club allows easy access to many superb attractions in Kildare and Dublin region during your family holiday or that well deserved family weekend break.Your family will never be short of things to do while on holiday in Ireland, and there are many seasonal events and activities to keep them entertained.
Directions To The K Club in Kildare
Located approximately 35 kilometres (22 miles) drive from Dublin City and just 38 kilometres (24 miles) from Dublin Airport, The K Club pairs old-world charm, service and ambiance with modern comforts, in a luxurious residential setting. Opulent, classical surroundings reflect elements of Ireland's history and reveal the best of luxury accommodation.
There are two routes from Dublin city – the N4/M4 or the N7
Directions for N7 route:
From the N7 (Naas Road) take Straffan exit.
After approximately 4 miles / 7km – over Liffey Bridge – Kildare Hotel gates on left.
Satellite Navigation Co-Ordinates: 53.308056- Latitude, -6.625050- Longitude
N4/M4
Take the M1 from the Dublin Airport and follow the signs for the M50 to the Westlink Toll Bridge.
Immediately after coming off toll bridge, exit at junction 7 and head right to N4- Galway/Sligo & The West.
Continue on this road past the Lucan Spa Hotel and on to the M4 Motorway.
Exit Motorway at Naas/Maynooth signpost and a junction take left for Naas.
Continue for approximately 5 miles/8km – cross Clane Road and follow sign for Straffan
Past Barberstown Castle and into Straffan Village – continue through village – entrance to Hotel ½ mile/800 m on right hand side.
Satellite Navigation Co-Ordinates: 53.308056- Latitude, -6.625050- Longitude