Address:
Dungourney, Midleton, Co. Cork
Tel.:
083 8488142


Please mention Family Fun when booking!
Leahys Open Farm In Cork
Leahy's Open Farm 
Leahy's Open Farm which has been operating in Dungourney since 1996 were forced to close on the 13th of March due to the Covid-19 crisis. The Leahy's plan to reopen their busy open farm this Friday in time for the summer season.
Like many businesses, the Leahy's were forced to make the tough decision to close their business due to staff and customer safety concerns back in March. This was a big knock for all members of the team and due to the timing meant they lost out on the busy Easter weekend and school tour season.
However, with restrictions being eased they are finally comfortable to reopen, much to the delight of many Cork families. However, those wishing to visit the farm will be required to pre book their visit via the book now link above.
Bookings are available every half an hour for a 4 hour duration to help with social distancing and extras such as JCB digger rides and crazy golf can be purchased online. Indoor play areas and the museum will be closed and one way systems in place during petting time. The café and chocolate factory will be open but only for take away service or if visitors wish, picnics are encouraged!
Donal, Teresa and all the Leahy's are extremely excited to be back up and running. "It's been a tough few months being closed, for us as business owners and also for all our staff. However we have welcomed some new arrivals to the farm during our hiatus, Maisy the cow had a lovely little calf called Buttercup and we just got two water buffalo calves. We cannot wait to see all our customers and staff again. It will definitely be an adjustment for everyone involved and we will try to do our very best to ensure everyone's safety. For now, some elements of the farm are closed, such as the café but we encourage visitors to bring picnics and put all their homebaking to use!
Members of the public can log onto the Leahy's Open Farm website for updates or check out their social media channels on Facebook and Instagram – even if you cannot visit the farm at this time, supporting small businesses on social media is a great way to help.
Leahys Open Farm In Cork
Leahys Open Farm East Cork, just 3 miles from the lovely village of Dungourney, is a great day out for all the family, with a huge selection of animals sheep and lambs, cuddly bunnies that the kids can feed. There is no time limits down on  Leahys Open Farm in Midleton, Co. Cork, so you can wonder around at your own pace, through the museums where you can see how people lived in the olden days, the new play barn, animal sections and the newly opened maze, you can take a walk through the gardens and enjoy the scenery, while the kids can go Go-Karting, play in the sand, go through the kiddies maze or drive around on the tractor track.
The Farm has a large restaurant/coffee shop and lots of picnic areas too. You can bring along a picnic or treat yourself and family to some delicious home baking.
Leahy's Open Farm is a popular place for family gatherings, birthday parties, summer camps and school tours.  The farm has a very relaxed and easy going aura, where people can just mellow and take in the surroundings, on Leahys Farm they  have people on hand to help out in anyway they can to make your day more enjoyable and as the farm is a family run business they take pride in providing that extra little personal touch.
Leahys Open Farm Activities
By following the signage throughout the farm, visitors can expect a minimum of 2 hours to complete the farm tour, taking as many breaks as they like in the various gardens and picnic sitting areas along the way.
Throughout the summer they have pig racing daily at 2pm and depending on availability dog agility. Also each day they milk Maisy the cow at 4 pm and her milk is used in the new ice cream & chocolate factory opening mid June.
They have many activities including
Crackers Crazy Golf,
Adventure Trail & Climbing Towers –  obstacle course is a real challenge for the older kiddies
The indoor Play Barn
Dun's Mystery Maze,
Tresy's Trail,
Outdoor Go Kart Track,
Melzies Fairy Fort Garden,
Farmers Fun House,
Digger Park
Barrel Train
Petting Time in Jolly Barn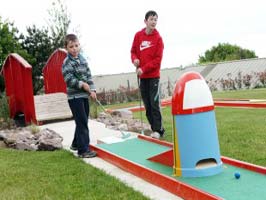 They also have many attractions including
Melzies Fairy Fort Garden
Nans Nook Museum,
Crannog Area,
Farmer's Cottage,
Farm Museum,
Carpenters Workshop,
Claragh's Garden
They also have many animals to see in their homes
Donie,s Paddocks
Jolly Barn
Indoor animal sheds
Nemo,s Fish Pond
Pigs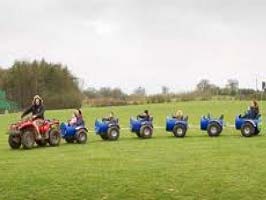 Leahy's Open Farm Admission
Admission per person €11.50
Family Ticket 2 Adults & 2 Children €50.00
Kids under 2's are free.
Diggers and Crazy Golf €2
Opening Time Down On The Farm
Open Everyday from 11 am to 6 pm
Petting Time in Jolly Barn at 1 pm, 3 pm & 5 pm
Pig Racing daily throughout the Summer at 2pm
Subject to availability dog agility
Maisy the cow is milked daily at 4 pm and her milk is used in their new ice cream & chocolate factory opening mid June.
Ice-Cream & Chocolate Factory
They make their own ice cream 2 days a week and make chocolate 3 days a week.
They have a variety of ice cream flavours along with dairy free sorbets.
Maisy the cow is milked each day at 4pm allowing all visitors to see real milk and learn of its uses, kids can smell the lovely warm milk straight from the cow and kids can brush Maisy after milking….Happy cow, creamy milk…
Leahys Open Farm make their own chocolates, lollipops, bars along with a massive chocolate fountain with Strawberries and marshmallows.
There is seating for 300 people in the new factory making it ideal for company's and large family gatherings
Leahy's Open Farm Birthday Parties
What a great idea to treat your child to a birthday party at the farm, they try to make this day a very happy and memorable one.  They give that little extra bit of attention to the birthday child and its such an important and exciting day for the whole group..
Here are the Birthday Package Options they offer:
Option 1:   Entry only €10.50 and this includes:
A Guide for 3 Hours
Petting time with animals
All kids in the party get a spin on the quad and barrel train.
Option 2:  Entry and food per child €14.50 and this includes all above plus:
Chips with either sausages/nuggets or a burger and a drink. (pasta option also available)
Option 3:  Entry and food per child €16.50 and this includes all above Plus:
Digger rides for all the Kids
Option 4:  Entry and food per child €17.50 and this includes all above Plus:
Crazy Golf for all the Kids
Option 5: Entry and food per child €19.50 and this includes all above Plus:
A Party bag for each child
Option 6: Chocolate Making Party – Entry and food per child €20.50.  This includes everything in option 2 plus:
Each child gets to decorate their choice of chocolate mould, make and decorate their own chocolate lollipop, package it and take it home.
There is a minimum of 8 kids and must be pre booked. Groups booked with 15 or more kids, the birthday child is free. All parties include 2 adults free, extra adults are charged €5.00.
Reserved table while having your food, No time restriction, Free Parking.
Booking:- Please book via email at [email protected] or by phone 086 8560461

Leahys Open Farm Facilities
Large Coffee Shop and Restaurant ( All home baking )
Large indoor and outdoor Play areas
Farm Museum
Large selection of animals on display ( Alpacas, snakes, hens, goats, pigs, horses and ponies, sheep,  marmoset monkeys and camal and lots more)
Indoor and outdoor picnic areas
The farm is Fully Accessible to Wheelchairs and Buggies.
They have Disabled Parking and Toilet facilities, also have Baby Changing facility.
Large Coach and Car park which is free of charge to all visitors
School Tours At Leahys Open Farm
The farm is a very educational place for young and interested minds.  Children are encouraged to learn about animals and machinery in a fun way and they are given opportunities to feed and touch lots of animals.  They  make sure that the school tours are beneficial to the children so that they understand what they tell them in a fun and interesting way.. It's a very popular place for National Schools, Crèches, Playschools and Montessori Schools.
Leahys Open Farm Events
Leahys Open Farm Easter Weekend
This is a great time of the year at the farm.  The Easter Bunny comes to the Leahys Open Farm and drops off all the eggs, but its your job to find the eggs.  They have an Easter Egg Hunt for the kids and sometimes there are other activities for the adults so that everybody goes home with at least one egg. It's a great weekend where adults and kids can join in the activities Date :-  Easter Weekend, Saturday Sunday and Easter Monday
Find Out More Information On Leahys Open Farm Easter Weekend
Leahys Open Farm Santa Claus and His Village
This is an experience not to be missed
Santa Claus has his own holiday home at Leahys Fun Farm, he spends lots of time on the farm.  Christmas at the farm is a really special experience for all the children where the farm transforms to a magical wonderland to astonish children and adults minds alike.
This time of the year at Leahy's Fun Farm is so magical its difficult to put into words, watching the children go through Santa's Village in total awe and amazement is so lovely, the atmosphere is happy and easy, they strive to make the trip a very memorable, happy one for all the family
Leahys Open Farm Halloween Event
The 'Boo' Experience –  Haunted Hay Rides, Witches Forest, Witches Disco, Scary stories (not too scary)…. Along with some fun halloween gamesLeahy's open farm will host Boo this Halloween for you and your family to enjoy. Take a trip on the haunted hay ride through the farm.Find your way to the witch's lair and help our little old witch make a magic spell by gathering the special ingredients. Join in for the witches wiggle disco. Please dress up for the experience (adults too).
Find Out More About  The 'Boo' Experience Leahys Halloween Event
Directions To Leahys Open Farm In Cork
Directions from Midleton.
Length of time to drive (15mins) Distance 9 miles.
Coming from Cork City, drive into Midleton Town, drive half way down the Main St, turn left at Connolly St for Tallow (R627) continue out this road for 6 miles this will bring you to Dungourney Village, drive through the village staying on the main Tallow Rd and Leahys Farm is 3 miles from the village on the left hand side.
Directions from Fermoy.
Length of time to drive (30mins) Distance 17miles
Coming from Dublin, drive over the bridge to Brian Boru Square at the traffic lights, turn left for Waterford N72, continue out this road for 3 to 4 miles then take a right turn for Coolagown, drive through the village and continue out this road until you come to a T Junction turn left at the T Junction for Conna, drive through the village of Conna (R628) and turn right for Ballynoe, drive through the village of Ballynoe and continue on this road for 3 miles, you will then come to a main cross roads, turn right for Midleton (R627) and Leahys Farm is 1 mile over this road on the right hand side.
Directions from Youghal
Length of time to drive (30 – 35mins) Distance 20 miles
From Youghal take the N25 towards Cork continue on this road through Killeagh village, then arriving in Castlemartyr, turn right at the traffic lights this will bring you into Mogeely village drive through the village and continue on until you reach Dungourney Village, turn right in Dungourney onto the R627 heading towards Tallow Leahys Farm is 3 miles from Dungourney village on the left hand side.