Dates:
From Friday, 23rd of November 2018 to Sunday, 23rd of December 2018
Times:
12:00 pm to 6:00 pm
Venue:
Santa Experience, Limerick
Address:
Jetland Shopping Centre, Ennis Road, Limerick
Santa Experience In Limerick 2018
The award winning and original Santa Experience returns to Limerick. This year they will be located in the Jetland Shopping Centre on the Ennis Road. Over the past 8 years The Santa Experience Limerick in association with Dunnes Stores has provided children and adults alike with a magical journey to Santa's House. Travelling through 5 fun filled festive rooms meeting elves, reindeer, polar bears and maybe even getting to ride in Santa's Sleigh on your way to meet the big man himself.
Take a tour of the North Pole visiting 5 fun filled festive rooms including:
The Elves Post office
Santa's Stable
The Sleigh Station
The Artic
Santa's House
Family Fun Tip:- Fill out the Santa needs to know forms – Santa knows some personal information about each child which enhances every child's experience.
Santa Experience has won "Best Santa" in Limerick "
Santa Experience also won "Best Santa in Ireland"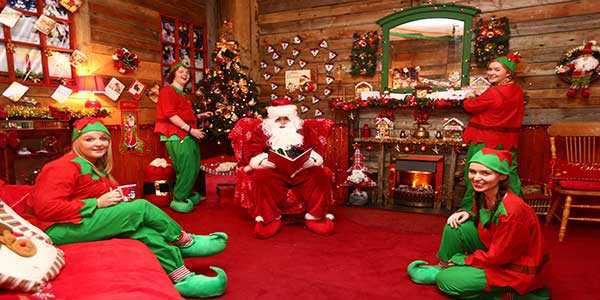 The Santa Experience
The Santa Experience Limerick will this years once again be bringing smiles to the faces of many lucky children throughout Limerick and beyond.
The Santa Experience has proved very popular in Limerick and across Ireland winning various awards including: Best Santa in Limerick, Best Santa in Cork, Best Santa's Grotto in Dublin and Best Santa in Ireland.
The Santa Experience is a multi family tour (maximum 5 children) through the North Pole spanning 2,000 sq.ft. On your journey you will meet and interact with elves in the Post Office, Santa's stable, the Sleigh Station where you also meet Rudolf, The Artic with Polar bears & penguins and finally Santa's magical house!
When you reach Santa's House the big man himself will then speak with each child and because Santa is magic he seems to know something about every boy and girl and sometimes even mums, dads and grandparents!
Each child then receives a lovely gift and has some fun photos taken with Santa!!
A professional photographer is on hand to capture that magic moment. Photos can be viewed and purchased immediately afterwards in large 8×10 format.
It's great experience for all the family.
It's great for all the family.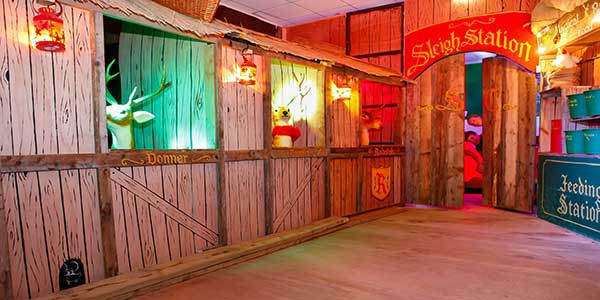 Santa's Shop
This year Santa has given  the secret recipe for his magical Reindeer Food to Santa Experience Limerick and they will be selling it at all their 3 venues. Be sure to get some and hang the food on your tree until Christmas Eve and then sprinkle it outside just before bedtime for Rudolf and the other reindeer.
You also can get your very own personal letter from Santa Claus himself straight from the North Pole to your doorstep!
You can even get your Santa Letter online
Event Information
Venue:-  The Jetland Shopping Centre in Limerick
Classification :-  Family Event  /  All Ages
Dates:-  23 November – 23 December
Times:- 12pm to 6pm (generally)
Please check the online booking system for exact opening times of your preferred location
Admission: –  Children €10 (incl. gift) | Adult €5 (no gift)
Photos:- €12 for first & €6 for each additional copy
Booking Online :– You can book on line here through our booking link directly to the Santa Experiencein Limerck ticket sales.
All children MUST be accompanied & supervised by an adult at ALL times
Important: Please arrive at your booking time (not before). We will endeavour to commence your experience within 30mins of check-in/booking time.
Example: If you have booked for 2:00pm you should be entering the experience by 2:30pm. This may not always be possible due to unforeseen circumstances
Directions To Visit Santa in Santa Experience Limerick
This year they will be located in the Jetland Shopping Centre on the Ennis Road which boasts various amenities including BB's Coffee, McDonalds and Carraig Donn.
The Jetland Shopping Centre Shopping Centre is located on the Ennis Road (R857) on the western side of Limerick City Centre.
Coming from the city centre – cross Sarsfield Bridge (where Limerick and Shannon Boat Clubs are located) and travel 1km through 3 sets of traffic lights passing The Strand Hotel, The Ardhu Bar and the Gaelic Grounds. The Jetland Shopping Centre will be located on your left-hand side
The centre benefits from a multi-storey carpark with over 1,000 spaces.
Charity – This year the Santa Experience Limerick has linked up with some great charities and every ticket booked will help those less fortunate this Christmas. The Santa Experience will be visiting three  local charities with Santa and his Elves as well as making a donation thanks to you!!
Other Santa Experience Venues In Ireland
 Visit Santa Experience Ilic Centre, Dublin 1 
Santa Experience Tallaght, Dublin 24