Dates:
From Friday, 19th of November 2021 to Thursday, 23rd of December 2021
Venue:
Santa's Magical Cabin
Address:
Dunnes Stores, The Ilac Centre, Henry St., Dublin 1.
Santa's Magical Cabin presented by The Santa Experience in Dublin 2021
Santa's Magical Cabin is part of the award winning and original Santa Experience and is in it's 2nd year in operation at the Ilac Centre in Dublin City. Santa's Magical Cabin will provide children and adults alike with a magical Christmas feeling.
At Santa's Magical Cabin instead of the group experience your family will follow one of Santa's elves and they will guide you through the magical tunnel directly to Santa's cabin for a special and private (covid safe) visit with the big man himself!
With an unforgettable visit to Santa in his magical cabin, get yourself a special present and have your picture taken with Santa.
The photographs which are extra (but worth it!) come in a professional 8 x 10 format with a black silver trim card frame. The quality is fantastic and it provides families with a timeless memento. You choose and collect your photos immediately after your visit in Santa's Magical Cabin Experience.
Family Fun Tip: Fill out the 'Santa Needs to Know' form – Santa knows some personal information about each child which enhances every child's experience. Santa will offer an age appropriate gift and take memorable photos that will last a lifetime!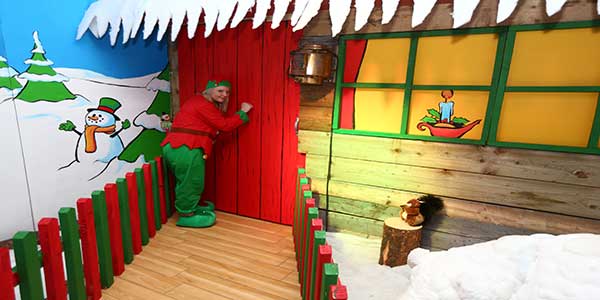 Santa's Shop
Reindeer Food: This year, Santa has given the secret recipe for his magical Reindeer Food to the Santa Experience in Tallaght. Rudolph and the other reindeer get very hungry on their journey around the world! The Magical Reindeer food comes in a beautiful hand tied bag complete with a tag.
Be sure to get some and hang the food on your tree until Christmas Eve. Sprinkle it outside just before bedtime for Rudolf and the other reindeer so they know exactly where your house is!
Personal Letter and Nice List Certificate: You also can get your very own personal letter from Santa Claus himself straight from the North Pole to your doorstep! Based on the information you provide Santa will create a magical letter unique to your child. Each letter comes with an authentic 'Nice List' certificate.
Deadline for Personalised Letters is Thursday, December 16th 2021 at midnight.
Follow this link to get your personalised Santa Letter now!
"Finding Nutmeg" Book: This beautifully illustrated children's book details the story of a little boy's adventure to the magical North Pole. After finding a magical coin outside his grandad's workshop, Sean embarks on a mission to return it to its rightful owner: Nutmeg the Elf. Finding Nutmeg is a timeless tale that's sure to bring the whole family together!
"Finding Nutmeg" Activity Book: Bring the adventures of 'Finding Nutmeg' to your home this Christmas! Children can now go on their own creative journey meeting elves and colouring in elves, and solving puzzles along the way!
Event Information
Venue:  Dunnes Stores, The Ilac Centre, Henry St., Dublin 1
Classification : Family Event  /  All Ages
Dates : November 19th to December 23rd 2021
Times: 12pm to 7pm (generally)
Precise timeslots: In order to reduce time waits and prevent crowds, they have created more precise timeslots. Similar to previous events, check-in will be no more than 10 minutes before your timeslot. Therefore, punctuality is key to making a Covid-safe event! Please check the online booking system for exact opening times of your preferred location.
Admission:
€12 per child includes meeting Santa and his elves and receiving a lovely age appropriate gift
€6 per adult
€12 per baby includes meeting Santa and his elves and receiving a lovely age appropriate gift
€6 per baby with no gift
Photos:  €15 for first & €10 for any additional photos.
Santa's Magical Cabin offer a Digital USB package for €35 which includes 1 printed photo plus all remaining photos accessible on USB.
Reindeer Food: €3 each
"Finding Nutmeg" Activity Book: €7
"Finding Nutmeg" Activity Bundle (Book and Activity Book): €15
Booking Online : You can book online through our link directly to Santa's Magical Cabin in Ilac Centre ticket sales
All children MUST be accompanied & supervised by an adult at ALL times.
Important: Please arrive at your booking time. We will endeavour to commence your experience within 10 mins of check-in/booking time.
Example: If you have booked for 2:00pm you should be entering the experience by 2:00pm.
Special needs: Because of the changes we've made to our event for 2021, we do not have a specific autism friendly day because every day is autism friendly! As always, if your child has specific needs that may not be met at our event, please contact us ahead of time and remind the receptionist on the day so we can make your visit run as smoothly as possible!
All children MUST be accompanied & supervised by an adult at ALL times
Directions To Visit Santa in Dublin
The Ilac Centre is located right in the heart of Dublin's primary shopping precinct. It can be accessed from O'Connell St., via Henry St. (pedestrianised). And can also be accessed from Moore St. and Parnell St.
The centre benefits from a multi-storey carpark with over 1,000 spaces.
Other Santa's Magical Cabin presented by the Santa Experience Venues In Ireland
 Santa's Magical Cabin Tallaght Dublin 24
Santa's Magical Cabin Portlaoise
Santa's Magical Cabin Ennis Clare
Santa's Magical Cabin Limerick