The Santa Experience presents Santa's Magical Cabin
Santa's Magical Cabin is back for 2023!
The nationwide award winning and original Santa Experience presents Santa's Magical Cabin returning to Limerick, Cork, Ennis, Portlaoise, Tallaght and the Ilac Centre Dublin 1 for Christmas 2023.
The Santa's Magical Cabin in association with Dunnes Stores has provided children and adults alike with a private family tour through the a magical tunnel directly to Santa's Magical Cabin.
Everyone will be entertained throughout by energetic elves who will tell everyone exactly how Santa, his reindeer and all the elves prepare for Christmas.
Children will be amazed by what Santa knows about them, thanks to the Santa Needs to Know forms, filled in at the time of booking.
Tickets cost €13.50 per child & €6 per adult and can be booked online in advance to ensure you get your preferred time and date. Each ticket includes meeting and interacting with elves and Santa and a beautiful gift to treasure.
A professional photographer will be on hand to capture all magical moments and you can order 8 x 10 framed prints immediately afterwards if you wish. The first print is priced at €16 and two photos cost €30.
The Santa Experience Venues
The Santa Experience
The Santa Experience will this years once again be bringing smiles to the faces of many lucky children throughout Ireland and beyond.
The Santa Experience has proved very popular in Limerick and across Ireland winning various awards including: Best Santa in Limerick, Best Santa in Cork, Best Santa's Grotto in Dublin and Best Santa in Ireland.
Each tour will be guided by a magical elf who will take you and your loved ones directly to Santa's Magical Cabin.
When you reach Santa's House the big man himself will then speak with each child and because Santa is magic he seems to know something about every boy and girl and sometimes even mums, dads and grandparents!
Each child then receives a lovely gift and has some fun photos taken with Santa!!
A professional photographer is on hand to capture that magic moment. Photos can be viewed and purchased immediately afterwards in large 8×10 format.
It's great experience for all the family.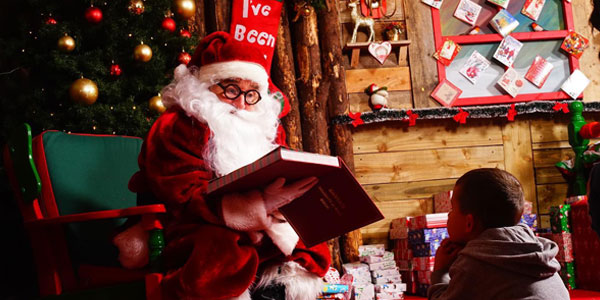 Event Information
Venue :
Classification : Family Event  /  All Ages
Dates :  17 November – 23 December 2023
Times :  12pm to 7pm (generally)
Please check the online booking system for exact opening times of your preferred location
Admission:
Child (aged 1-12) €13.50
Adult (aged 12+) €6.00
Infant (aged under 1) with gift €13.00
Infant (aged under 1) with no gift €6.00
Photos: €16 for first & €30 for two photos
Booking Online : You can book online here through our booking link directly to the Santa Experience in ticket sales.
All children MUST be accompanied & supervised by an adult at ALL times
Important: Please arrive at your booking time (not before). They will endeavour to commence your experience ASAP.
Example: If you have booked for 2:00pm you should be entering the experience by 2:00pm.